World cinema has few such ingeniously constructed works which, via a magnificent panoramic arc spanning a variety of social strata, capture the lifestyles, value systems, and human sentiments of the late 20th century. The stars certainly scintillate, but the truly stellar experience comes from the picture's intellectual riches.
Synopsis
The stories of Raymond Carver provided the inspiration for a film which brings together fragments of the lives of the many principal characters. Each is carefully individualized, but taken together they create an image of contemporary lifestyles, while modern Los Angeles is also perceived as the mythical Babylon. Heterogeneous protagonists and plotlines unexpectedly intertwine and collide, the fantastic emerges from the every day, piddling details butt up against pivotal considerations, lacerating despair meets grotesque comicality, and the banal contrasts with moments worthy of the classical tragedy. Whether individuals or couples, their interests diverge and their relationships are full of misunderstanding, indifference, and resentment. No one is capable of learning a lesson, fatal flaws are constantly in circulation – and thus young Casey, suffering a long and quiet death, is made to serve as a sacrificial lamb for the redemption of sins that are committed again and again. In 1993 Venice's Golden Lion fell to a film with a very dark message, in which Altman's proverbial sarcasm chills to the bone.
Zdena Škapová
The film is being presented on the occasion of the 50th anniversary of Chris Penn's birth.
About the director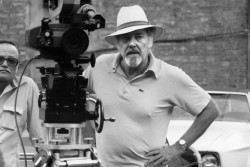 Robert Altman (1925, Kansas City – 2006, Los Angeles) has numerous television shows and upwards of 40 films to his credit. He presents a striking exception in the context of American filmmaking for his long-term emphasis on creating intellectually demanding works, a trait also reflected in his sophisticated narrative style. He developed and perfected Fellini's method of plot fragmentation and the ability to interweave the lives of a great number of characters. In his pictures he analyzed American society from numerous points of view, and uncovered and satirized its myths, making use of numerous genres and their stereotypes with an equally provocative critical distance. Selected filmography: MASH (1969), McCabe & Mrs. Miller (1971), Nashville (1975), A Wedding (1978), Come Back to the Five and Dime, Jimmy Dean, Jimmy Dean (1982), The Player (1992), Short Cuts (1993), Prêt-à-Porter (1994), Gosford Park (2001).
About the film
Color, 35 mm

| | |
| --- | --- |
| Section: | Out of the Past |
| | |
| Director: | Robert Altman |
| Screenplay: | Robert Altman, Frank Barhydt podle povídek / based on the tales by Raymond Carver |
| Dir. of Photography: | Walt Lloyd |
| Music: | Mark Isham |
| Editor: | Geraldine Peroni, Suzy Elmiger |
| Art Director: | Stephen Altman |
| Producer: | Cary Brokaw |
| Production: | Fine Line Features |
| Cast: | Andie MacDowell, Chris Penn, Bruce Davison, Jack Lemmon, Zane Cassidy, Julianne Moore |