Ukraine
2014, 80 min

Section: Documentary Films - Competition
Year: 2015
The snow is starting to melt and spring has announced its arrival. Three Carpathian shepherds, just like their fathers and grandfathers before them, set off with their flock into the mountains on a lonely journey lasting several months. A nostalgic, mystery-tinged essay about an ancient profession that unbridled civilization may soon swallow up.
Synopsis
The snow is starting to melt and spring has announced its arrival. It's about time that Carpathian shepherds set off on their yearly pilgrimage. Just like their fathers and grandfathers before them, they leave their families for several months and withdraw to a mountain preserve untouched by civilization. This melancholy documentary tale introduces us to three such loners. Ten-year-old Ivanko spends his childhood in harmony with nature – in other words, in complete contrast to his peers. Vasyl, Ivanko's 39-year-old godfather, for whom sheepherding is almost a religious calling, contemplates his wasted youth. Then there's 82-year-old widower Ivan, who speaks nostalgically about the lonesome life journey he traveled for decades on end. Will the tradition survive or will an ancient vocation be swallowed up by unbridled civilization? Full of mysticism and enhanced by stunning camerawork and sound design, this essay on a dying way of life enchants us with its rich film language.
Martin Horyna
About the director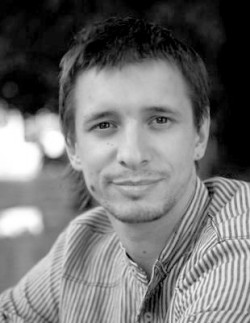 Ostap Kostyuk (b. 1979, Kolomyia, Ukraine) graduated from Ivan Franko National University of Lviv with a degree in history and went on to study performance at the Les Kurbas Academic Theater, where he has worked as an actor since 1998. He has also had acting engagements at Maisternia Pisni Arts Centre, Wrocław's Jerzy Grotowski Institute, and LaMaMa theater in New York. He headed up several successful music projects (e.g. BAI: Hutsul Mystery, Banda Arkan, Tatosh Banda, Hych Orchestr) and he curates music at the Dzyga cultural center in Lviv. In 2011 he attended the Dragon Forum International Academy of Documentary Arts in Warsaw. His first short film Manu et le chou (Manu i kapusta, 2011), directed with Oleksandr Pozdnyakov, was awarded by France's RADi (Agence du Court Métrage). The Living Fire is his feature debut.
About the film
Color, DCP
European premiere
| | |
| --- | --- |
| Section: | Documentary Films - Competition |
| | |
| Director: | Ostap Kostyuk |
| Screenplay: | Ostap Kostyuk |
| Dir. of Photography: | Oleksandr Pozdnyakov, Mykyta Kuzmenko |
| Music: | Alla Zahaykevych |
| Editor: | Petro Tsymbal |
| Producer: | Gennady Kofman, Daniil Vulitsky |
| Production: | National Cinematheque of Ukraine |
| Sales: | MAGIKA FILM |
| | |
| www: | zhyvavatra.com.ua |
Guests
Ostap Kostyuk
Olha Beskhmelnytsina
Producer
Zoia Lytvyn
Distributor, Producer