Italy / France / Switzerland / United Kingdom
2015, 118 min

Section: Horizons
Year: 2015
Although the age of the characters, outstandingly rendered by Michael Caine and Harvey Keitel, defies its title Youth, the film's first few dazzling shots promise that it won't all be simply about old timers. Naturally, waning vigour, reminiscences and an increasingly unreliable memory are also topics of conversation for two old friends staying at a luxury hotel. Yet the simmering life they see around them motivates them to contemplate youth, beauty and creativity, anything that will drive away thoughts of their approaching demise. For many visitors to Cannes, this film was even more wonderful than The Great Beauty.
Synopsis
Retired composer and conductor Fred (Michael Caine) is taking treatments at a luxury Swiss spa, watched over by his daughter (Rachel Weisz). He's there with his old friend Mick, a film director (Harvey Keitel) who, unlike Fred, doesn't plan on giving up his career just yet. Both while away the time reminiscing about their young days and their past loves and, fully aware of their age, they have no illusions about the future. They observe the lives of dozens of colourful individuals whom they meet or simply glimpse passing by, and who compel them to reflect on youth and beauty. Here, Paolo Sorrentino once again stages a "choral theatre of life," where the motley characters surrounding the central figures each have a fundamental role to play – not as part of the almost nonexistent story, but as one of the constituents of the filmmaker's design. This latter is stunningly rendered via image and music and, instead of a sense of decline and finality, the impression is more one of hope, reinforced by a wonderful and strongly emotive ending. Sorrentino's new film was considered one of the best works in this year's Cannes competition but, like The Great Beauty (2013), it failed to win a prize.
Eva Zaoralová
About the director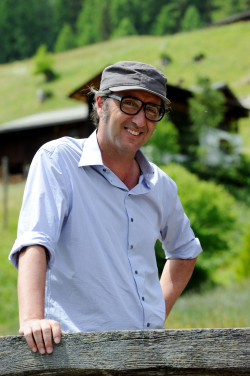 Paolo Sorrentino (b. 1970, Naples, Italy) worked, early in his career, as a screenwriter with Neapolitan dramatists and filmmakers. In 1998 he made the short film Love Knows No Bounds, which garnered numerous awards. His feature film debut One Man Up (L'uomo in più) was screened in competition at Venice in 2001 and the following year at KVIFF. His works have regularly competed at Cannes since his film The Consequences of Love was included in 2004 in the programme for this, the most important international film festival: The Family Friend (L'amico di famiglia, 2006), Il divo (2008, Jury Prize), This Must Be the Place (2011), The Great Beauty (La grande bellezza, 2013; Oscar for the Best Foreign Film) and Youth (2015). Sorrentino is also a respected author; in 2010 he published his first novel Everybody's Right, followed two years later by Tony Pagoda and His Friends.
About the film
Color, DCP

| | |
| --- | --- |
| Section: | Horizons |
| | |
| Director: | Paolo Sorrentino |
| Screenplay: | Paolo Sorrentino |
| Dir. of Photography: | Luca Bigazzi |
| Music: | David Lang |
| Editor: | Cristiano Travaglioli |
| Art Director: | Ludovica Ferrario |
| Producer: | Nicola Giuliano, Francesca Cima, Carlotta Calori |
| Production: | Indigo Film, Medusa Film |
| Coproduction: | Barbary Films, Pathé, France 2 Cinema, Number 9 Films, C-Films |
| Cast: | Michael Caine, Harvey Keitel, Rachel Weisz, Paul Dano, Jane Fonda |
| Sales: | Pathé International |
| Distributor: | Aerofilms |
Guests
Ivo Andrle
Distributor
Zuzana Pudilová
Distributor
Radim Habartík
Distributor
Zuzana Kameníková
Cinema Representative, Cinema Representative
Jan Noháč
Distributor
Radka Urbancová
Distributor, Cinema Representative, PR & Marketing
Jakub Němeček
Other, Distributor
Zuzana Raušová
Cinema Representative, PR & Marketing, Distributor