Ireland / United Kingdom / France / Greece / Netherlands
2015, 118 min

Section: Horizons
Year: 2015
The near future: all men and women without partners are rounded up and taken to a hotel where they must find a counterpart within 45 days. If they don't succeed they'll be changed into an animal of their choice. Three men who become friends at the hotel escape into the woods, joining up with a rebellious group called The Loners. The black humor of this absurd drama earned the film a Jury Prize at Cannes 2015.
Synopsis
The future doesn't appreciate single people: all men and women without a partner are rounded up and taken to the Hotel, where they have 45 days to find a matching mate. Whoever fails will be transformed into an animal of his or her choice and exiled to the Woods. Rebels live there who call themselves the Loners, and sometimes hunts are organized to go after them. Participating in these hunts along with the others is one of the rituals that the reluctant Hotel guests have to face. Resigned to his own fate, David (Colin Farrell) is taken off to the Hotel. His one consolation is his dog, which he's allowed to have in his room, but he doesn't suspect that it won't be for long. The boundless imagination of the Greek director and his screenwriter allows David to taste freedom among the forest rebels, to finally find love, and to discover in the end that he is still no better off. As in his previous films, Yorgos Lanthimos layers the comically absurd situations with characteristic irony and black humor, relating a story, however unrealistic it may seem, that is not entirely divorced from the present.
Eva Zaoralová
About the director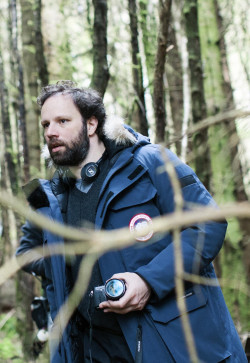 Yorgos Lanthimos (b. 1973, Athens) graduated in film and television direction from Stavrakos Hellenic Cinema and Television School in Athens. Since 1995 he has directed shorts (Uranisco Disco, 2001), features, plays, music videos, and television commercials. He was also part of Dimitris Papaioanno's creative team, the group behind the opening and closing ceremonies of Athens' 2004 Olympic Games. His first feature Kinetta (2005) premiered at the Toronto IFF. His second, Dogtooth (Kynodontas, 2009 – Young Greek Cinema at KVIFF 2011), premiered at Cannes, where it won the Un Certain Regard Award. The picture was nominated for Best Foreign Language Film at the 83rd American Academy Awards. Alps (Alpeis, 2011) was awarded a Golden Osella for Best Screenplay at the Venice IFF. The Lobster also scored a major award, the Jury Prize at Cannes.
About the film
Color, DCP

| | |
| --- | --- |
| Section: | Horizons |
| | |
| Director: | Yorgos Lanthimos |
| Screenplay: | Yorgos Lanthimos, Eefthimis Filippou |
| Dir. of Photography: | Thimios Bakatakis |
| Editor: | Yorgos Mavropsaridis |
| Art Director: | Jacqueline Abrahams |
| Producer: | Ed Guiney, Lee Magiday, Ceci Dempsey, Yorgos Lanthimos |
| Production: | Element Pictures, Scarlet Films |
| Coproduction: | Haut et Court, Faliro House Productions, Lemming Film |
| Cast: | Colin Farrell, Rachel Weisz, Léa Seydoux, John C. Reilly, Ben Whishaw |
| Sales: | Protagonist Pictures |
| Distributor: | Falcon a.s. |
Guests
George Hamilton
Sales Agent
Svatava Peschková
Distributor