Archive of films

Land and Shade / La tierra y la sombra
Colombia / Chile / Netherlands / France / Brazil
2015, 97 min

Section: Horizons
Year: 2015
A slow-paced, visually powerful drama set in rural Colombia about a farmer who returns home late in life. Land and Shade, young filmmaker César Augusto Acevedo's feature debut, premiered during this year's Critics' Week at the Cannes festival, where it took two awards.
Synopsis
The farmer Alfonso is an old man when he returns to his home after an absence of nearly 20 years. His family tries to eke out a living among the sugarcane plantations, but the struggle against nature has taken its toll on Alfonso's son Gerard. Alfonso is reunited with the woman with whom he once lived, with his daughter-in-law, and with his grandson. He tries to fix the things he neglected, but that is no easy task in this land of dust and ruin. "This film was born of personal pain," says director César Augusto Acevedo. "When I began writing the screenplay my mother was dead, my father was a ghost, and because it was impossible for me to generate memories, I was condemned to lose them forever." In Land and Shade, Acevedo returns to his roots to take a closer look at familial ties. His story is often told not in words, but through symbolic imagery. Time flows in lengthy scenes that require just one thing from the viewer: patience.
Šimon Šafránek
About the director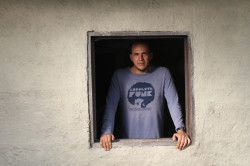 César Augusto Acevedo (b. 1987, Colombia) is a member of the youngest generation of Latin American filmmakers. He studied at university in Cali, graduating with a screenplay for his feature-length debut Land and Shade (2015). The film was shown as part of Critics' Week in Cannes, where it won the France 4 Visionary Award for new cinematic talents and the SACD Award for Best Screenplay. Previously, Acevedo had made two short films. He also co-wrote the screenplay and worked as assistant director on The Mushroom (Los hongos, 2014), which won the Special Jury Prize at Rotterdam, and was production assistant on Crab Trap (El vuelco del cangrejo, 2009), which won the FIPRESCI Award at the 2010 Berlinale.
About the film
Color, DCP

| | |
| --- | --- |
| Section: | Horizons |
| | |
| Director: | César Augusto Acevedo |
| Screenplay: | César Augusto Acevedo |
| Dir. of Photography: | Mateo Guzmán |
| Editor: | Miguel Schverdfinger |
| Art Director: | Marcela Gómez |
| Producer: | Diana Bustamente Escobar, Paola Andrea Perez Nieto, Jorge Forero |
| Production: | Burning Blue |
| Coproduction: | Topkapi Films, Ciné-Sud Promotion, Preta Portê Filmes, CTB Film Company |
| Cast: | Haimer Leal, Hilda Ruiz, Edison Raigosa |
| Sales: | Pyramide International |
Guests
Agathe Mauruc
Sales Agent