Poland / Sweden / France
2015, 102 min

Section: Another View
Year: 2015
Making its way from Cannes to Karlovy Vary, the Swedish director's debut takes as its focus of interest a taciturn young man named John, who returns to his hometown accompanied by his father after spending time away. Refined stager von Horn provokes his audience by carefully meting out his clues, leading to the revelation of a mystery that is causing everyone around to react with hostility to John's return.
Synopsis
There are things that are hard to say aloud but if they remain unspoken, they will undoubtedly manifest themselves in other ways. Evasive glances, whispers, sudden bursts of rage – these are the reactions to John's return to his hometown, which truly pleases only his younger brother and their dog. The introverted young man has been gone for two years. Nothing has changed at first sight, yet a closer examination reveals that the changes are many. The artfully staged drama provokes the viewer to incessantly ask, "What actually happened?" – but the answer comes in carefully measured doses. The stark atmosphere of apparent calm gradually turns into a vindictive lynching, from which the original transgressor has a hard time extricating himself. Posing a question about the dark side within each of us, Magnus von Horn says of his film: "We defend ourselves from looking too deep, if you go too deep you set a mirror to yourself. All of us are able to commit evil actions but we are not evil." The director's debut feature premiered this year in Cannes' Directors' Fortnight.
Anna Kořínek (Purkrábková)
About the director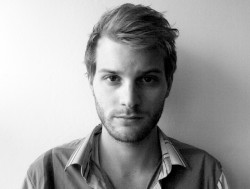 Magnus von Horn (b. 1983, Göteborg, Sweden) studied at the Film School in Łódź and currently lives in Warsaw. So far, he has directed several short films. His short documentary Radek (2007) won the Maciej Szumowski Award at the Kraków film festival. Finished a year later, Echo was awarded (once again in Kraków) a Silver Hobby Horse. In addition, it was selected as Best Film by the juries of the Munich ISFF and the Aix-en-Provence Tous Courts festival. In 2010 it also screened at Sundance. His graduation short Without Snow (Utan snö, 2011) repeated the same international festival success; the film premiered at Locarno, and was nominated for the Swedish national Guldbagge Award for the best short film. He was associated as screenwriter with The Word (Obietnica, 2014) from director Anna Kazejak-Dawid, shown to audiences at the Karlovy Vary IFF last year.
About the film
Color, DCP

| | |
| --- | --- |
| Section: | Another View |
| | |
| Director: | Magnus von Horn |
| Screenplay: | Magnus von Horn |
| Dir. of Photography: | Łukasz Żal |
| Editor: | Agnieszka Glińska |
| Art Director: | Jagna Dobesz, Henrik Ryhlander |
| Producer: | Mariusz Włodarski, Madeleine Ekman |
| Production: | Lava Films, Zentropa International Sweden |
| Coproduction: | Cinéma Defacto, Opus Film, Film i Vast |
| Cast: | Ulrik Munther, Mats Blomgren, Loa Ek |
| Sales: | TrustNordisk |
| Contact: | Swedish Film Institute |
| | |
| www: | www.the-here-after.com |
Guests
Magnus von Horn
Lizette Jonjic