Archive of films

Dog Day Afternoon / Dog Day Afternoon
Al Pacino never disappoints, neither does the outstanding John Cazale in the role of a clumsy outsider with whom he then bungles a bank robbery. Based on a true story, the movie is full of suspense although it doesn't lack for comic elements as well. Of the six Academy Awards for which it was nominated, it took Best Writing, Original Screenplay.
Synopsis
One of the best works from among the fifty films that Sidney Lumet directed over the course of his life. Here, too, we recognize his trademark social criticism, this time aimed at the media's power to manipulate public opinion. At the forefront of the story, however, is a brilliant character study of two thieves who decide to rob a bank – unfortunately for them, after all the money has already been removed. In the following dramatic and absurd situations, Sonny and Sal (together with the bank employees they have taken hostage) are holed up in the bank, with the police, journalists, TV reporters and mobs of onlookers besieging them outside. A few hours of live television coverage manage to turn the crime into a sensational event that gives the thieves a false sense of grandeur and makes it practically impossible for them to surrender. And in this artificially turbulent atmosphere, there is no room for Sonny's personal story: He was robbing the bank in order to get the money for his transsexual partner's operation.
Zdena Škapová
The film is being presented on the occasion of the 80th anniversary of John Cazale's birth.
About the director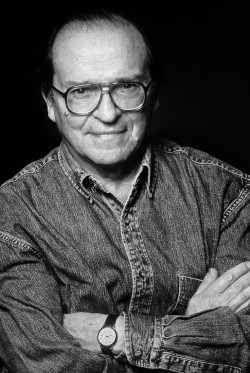 Sidney Lumet (1924, Philadelphia – 2011, New York) started out as an actor in a Jewish theatre alongside his father. He began directing theatre in the 1950s, when he worked on the first of his more than 100 television shows. He first gained fame with the claustrophobic drama 12 Angry Men (1957), which clearly reflects the typical characteristics of his directing style. Although he was fond of suspense and detective genres, he was drawn more towards ordinary protagonists and unremarkable stories and aimed for realistic portrayals, with a focus on the smallest detail and on the characters' psychological depth. In terms of style, his thematically diverse range of films share an attempt to show that seemingly simple things are in reality extremely complicated and worthy of thought. Many of his films received numerous awards and nominations; a few examples include The Hill (1965), Serpico (1973), Network (1976), and The Verdict (1982).
About the film
Color, DCP

| | |
| --- | --- |
| Section: | Out of the Past |
| | |
| Director: | Sidney Lumet |
| Screenplay: | Frank Pierson podle novinového článku / based on the article The Boys in the Bank by P. F. Kluge |
| Dir. of Photography: | Victor J. Kemper |
| Editor: | Dede Allen |
| Art Director: | Douglas Higgins |
| Producer: | Martin Bregman, Martin Elfand |
| Production: | Artists Entertainment Complex |
| Cast: | Al Pacino, John Cazale, James Broderick, Charles Durning |
| Sales: | Park Circus Group |