Archive of films

Godfather: Part II / The Godfather: Part II
In terms of the many positive reviews and its three Academy Awards, The Godfather: Part II outstripped the first installment of this magnificent mafia family saga. Once again, Coppola succeeded masterfully in unifying several complicated storylines, and despite a marked emphasis on action he turns in a penetrating study of numerous distinct characters. One standout is black sheep Fredo Corleone played by the congenial John Cazale.
Synopsis
It's already the 1950s when, after Vito Corleone's death, his son Michael becomes godfather, and in addition to the treachery in his own family, he must stand against hardened competitors from the underworld, as well as the heightened interest of the increasingly powerful organs of justice. Thus the young man, who long refused to act the tough boss, inevitably becomes an even more ruthless master than his father. But Michael isn't just a killing machine. Played by the mesmeric Al Pacino, sorrow is etched in the lines of his face as if he knew from the start that, after all the victories that toppled his adversaries, a great loneliness would await him in the end. In a subplot flashing back to 1920s New York, Robert De Niro excels as a young Vito who is building his position from the ground up. Coppola has everything perfectly under control, from imposing, high-profile situations in which the plot develops on several planes at once, down to minute details such as the Sicilian dialect, employed to perfection in Vito's early scenes.
Zdena Škapová
The film is being presented on the occasion of the 80th anniversary of John Cazale's birth.
About the director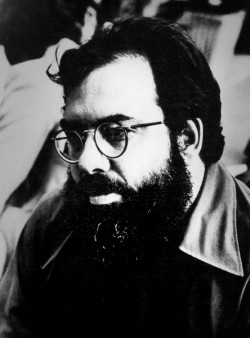 Francis Ford Coppola (b. 1939, Detroit) is a director, screenwriter, and producer who graduated from Hofstra University and UCLA. He is a representative of New Hollywood, the 1970s movement that fundamentally strengthened the role of the director in the moviemaking process. An Academy Award for Best Writing (Patton, 1969) got him noticed, but world renown came with The Godfather (1972), a gangster saga of epic proportions and dramatic intensity. The 1970s were a stellar time for him, with his films receiving numerous Oscar nominations (and six statuettes), in addition to Palmes d'Or at Cannes for The Conversation (1974) and Apocalypse Now (1979). Coppola mainly focuses on making big-budget movies whose spectacular staging, however, doesn't bar him from achieving in-depth character development or curb his ambition to impart weighty ideas. His later works include The Cotton Club (1984), Dracula (1992), and The Rainmaker (1997).
About the film
Color, DCP

| | |
| --- | --- |
| Section: | Out of the Past |
| | |
| Director: | Francis Ford Coppola |
| Screenplay: | Francis Ford Coppola, Mario Puzo podle románu Kmotr / based on the novel The Godfather by Mario Puzo |
| Dir. of Photography: | Gordon Willis |
| Music: | Nino Rota |
| Editor: | Peter Zinner, Barry Malkin, Richard Marks |
| Art Director: | Angelo P. Graham |
| Producer: | Francis Ford Coppola |
| Production: | Coppola Company |
| Cast: | Al Pacino, John Cazale, Robert Duvall, Diane Keaton, Robert De Niro |
| Sales: | Park Circus Group |