Archive of films

Tosca's Kiss / Il bacio di Tosca
It's no wonder that, in Italy, a country with such a rich and extensive opera tradition, a home would be built to take care of retired opera singers, the first of its kind in the world. It was constructed in 1896 at Verdi's initiative, and the documentary acquaints us with its exceptional residents as they recall their former glory.
Synopsis
The clear voices of a group of opera singers echo through the interior of an elegant, old-fashioned residence. Watched over by the vigilant gaze of the concierge and attended to by a few members of staff, egotistical sopranos, nun-like harpists and eccentric musicians spin out the idle days of their old age in a rest home founded in Milan by the composer Giuseppe Verdi. In a rarefied atmosphere set off perfectly by the wintry light, the series of tiny events that make up each day unfolds – visits from one room to another, singing together, practicing individually. Actions take over from words and the time-worn protagonists of Italian opera embody anew the characters they so often performed: the passions of Tosca and Rigoletto color their cheeks and warm their voices, leaving Daniel Schmid once again transfixed as the spectator of the power of the theater over all who have "loved the stage and lived the art of performance."
Daniela Persico
The movie was selected by the Locarno International Film Festival as part of the joint 50th anniversary celebration of the signing of the sister city agreement between Karlovy Vary and Locarno.
About the director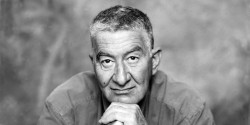 Daniel Schmid (1941–2006, Flims-Waldhaus, Switzerland) was a theatre and film director with a distinctive imagination and an unusual view of reality. He was also active as a screenwriter and occasional actor, (e.g. in the films of his friend Rainer Werner Fassbinder). Schmid made both documentaries and feature films. His Hécate (1982), a passionate love drama involving the conflict between European and African cultures, was shown at the Berlinale, and his satire of Swiss society Beresina oder Die letzten Tage der Schweiz (1999) was screened at Cannes. His features include Schatten der Engel (1976) and the autobiographical Zwischensaison (1992), and he also made the documentaries Mirage de la vie (1983), Les amateurs (1991) and Das geschriebene Gesicht (1995), and the docudrama Notre Dame de la Croisette (1981). Pascal Hofmann and Benny Jaberg filmed a biography of Schmid, Le chat qui pense, in 2010.
About the film
Color, DCP

| | |
| --- | --- |
| Section: | Out of the Past |
| | |
| Director: | Daniel Schmidt |
| Screenplay: | Daniel Schmid |
| Dir. of Photography: | Renato Berta |
| Music: | Giuseppe Verdi, Giacomo Puccini |
| Editor: | Daniela Roderer |
| Art Director: | Raul Gimenez |
| Producer: | Marcel Hoehn, Hans-Ulrich Jordi |
| Production: | T&C Film |
| Cast: | Sara Scuderi, Glovanni Puligheddu, Leonida Belion, Saivatore Locapo, Giuseppe Manacchini |
| Sales: | T & C Film AG |
| Contact: | Swiss film archive |