Archive of films

Wedding of Silence / Svaďba tišiny
Russia
2003, 29 min

Section: Documentary Films - Competition
Year: 2004
Mothers don't hear the voices of their children, nor men the sounds of the factory where they work. But their eternal silence does not prevent them from making merry, experiencing the power of the liturgy, or starting families. After a wild wedding, the groom and his co-workers admire their work – a huge bell for Petersburg. With excitement they observe the swinging of its clapper.
 
Synopsis
A film about people who live in a world of silence. A mother doesn't hear the voices of her children, nor men the din of the foundry where they work. But still they lead full lives. They enjoy family gatherings immensely and love to dance. At church the priest imparts his message by means of sign language, their eyes perceiving the beauty of the liturgy. Even the wedding of a couple from the deaf community proceeds like any other – champagne sparkles in silence, hands create magical toasts. The next day the new husband and his co-workers are back at the foundry casting an enormous bell in honour of Petersburg's 300th anniversary – they admire their work but won't hear its sonorous sound as it tolls for the celebration.
About the director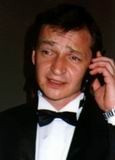 Pavel Medvedev (b. 1963, Orenburg), graduated from the Leningrad State Institute of Culture (1990) and then from the two-year Higher Courses in Television Production. He has worked as a producer for Petersburg radio and television stations. In 2001 he produced the documentary series "Petersburg Short Stories." His debut, the documentary Vacations in November (Otpusk v noyabre, 2002), focuses on miners who spend their holidays earning money (or at least meat) up north slaughtering reindeer; the film took several awards at home and abroad. Also successful was the documentary The Very Best Day (Samy luchshy den', 2002) about a Russian organ builder who lives in the country, where he dazzles his neighbours with his music. 
Contacts
St. Petersburg Documentary Film Studio
Krukov kanal 12, 190 068, St. Petersburg
Russia
Tel: +7 812 714 5312, +7 812 114 4592
Fax: +7 812 714 3304
E-mail: [email protected]

About the film
Black & white, 35 mm
World premiere
| | |
| --- | --- |
| Section: | Documentary Films - Competition |
| | |
| Director: | Pavel Medvedev |
| Screenplay: | Pavel Medveděv / Pavel Medvedev |
| Dir. of Photography: | Alexander Gussev |
| Editor: | Valentina Torgajevová / Valentina Torgaeva |
| Producer: | Vjačeslav Tělnov / Viacheslav Telnov |
| Production: | St. Petersburg Documentary Film Studio |
| Contact: | St. Petersburg Documentary Film Studio |
Guests
Anastasia Printseva
Pavel Medvedev
Vyacheslav Telnov
Producer