South Korea
2004, 95 min

Section: Horizons
Year: 2004
Leading South Korean director Kim Ki-duk earned himself the Silver Bear for directing Samaria at this year's Berlinale. This simple tale of two high school girls who turn tricks after school is a mixture of Buddhist teaching and Catholic guilt and redemption. It marks the director's return to an earlier ethos of his filmmaking career.
Synopsis
Two Seoul high school girls earn the money for a trip to Europe in an unusual way: Jae-young turns tricks and Yeo-jin arranges customers. The girls see nothing unusual in this. But one day Jae-young is fatally injured. As a result of the shock caused by this tragic event, Yeo-jin decides to offer herself to their former clients in atonement. But then Yeo-jin's father, a police detective, accidentally finds out what his daughter has been doing after school... Leading South Korean director Kim Ki-duk, whose films were presented in retrospective at Karlovy Vary in 2002, seems to have abandoned the controversy of his prior work: Samaria, too, makes use of violence, sex and death but does so in a somewhat different way. Once again we are confronted by a strange and disaffected world, pervaded by an unusual mood, and supported by lyric music and the atmosphere of a Korean autumn.
About the director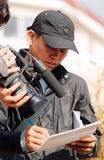 Kim Ki-duk (b. 1960, Kyungsang Province) as a young man worked in a factory, was a sailor, and spent five years in the army. He also sold his paintings for two years in Paris. He then began writing screenplays and made a name for himself as a controversial director of films that combined deep melancholy with brutality and erotic extremes. He has become South Korea's leading director, and his films were profiled at the 37th Karlovy Vary IFF (2002). His work often features outcasts or those hounded by obsessive feelings of guilt. Selected filmography: Crocodile (Ageo, 1996), the drama Wild Animals (Yasaengdongmulbohogu-yeog, 1997), the comedy Birdcage Inn (Parandaemun, 1998), The Isle (Seom, 2000), the political drama Address Unknown (Soochweein boolmyung, 2001), Bad Guy (Na-bbun-nam-ja, 2001), The Coast Guard (Haeansun, 2002), Spring, Summer, Fall, Winter...and Spring (Bom, Yeoreum, Gaeul, Gyeoul...Geurigo Bom, 2003), Samaritan Girl (2004). Kim Ki-duk took the Silver Bear for directing Samaritan Girl at this year's Berlinale.
Contacts
Cineclick Asia
3F Incline Bldg., 891-37 Daechi-dong, Gangnam-gu, 135-280, Seoul
Korea (Republic of)
Tel: +82 2 538 0211, 12
Fax: +82 2 538 0479
E-mail: [email protected]
www: www.cineclickasia.com

About the film
Color, 35 mm

| | |
| --- | --- |
| Section: | Horizons |
| | |
| Director: | Kim Ki-duk |
| Screenplay: | Kim Ki-duk |
| Dir. of Photography: | Sun Sang-jae |
| Music: | Park Ji |
| Editor: | Kim Ki-duk |
| Producer: | Kim Dong-joo, Bae Jeong-min, Kim Yoon-ho |
| Production: | Kim Ki-duk Film |
| Cast: | Lee Uhl, Kwak Ji-min, Seo Min-jung |
| Contact: | Cineclick Asia |