USA
2004, 104 min

Section: Horizons
Year: 2004
Suave and eccentric "Professor" G. H. Dorr rents a room in a house in the Southern sticks owned by an old widow. On the pretext of practicing old music, he and his four cohorts start tunnelling into the safe of an adjacent casino. This movie is the Coen brothers' own unique remake of Alexander Mackendrick's well-loved English film of the same name.
Synopsis
Brothers Ethan and Joel Coen have attracted a certain following with bizarre crime dramas that generally include shocking scenes and moments of harsh black humour. Recently, however, they have turned their attention to genre films which deviate from the Hollywood mainstream only in their sophistication. The morbid crime-comedy The Ladykillers is just such a movie. A five-member gang, under the leadership of a suave Edgar Allen Poe devotee, "Professor" G. H. Dorr, is planning on robbing the safe at a casino. But he certainly had no luck in picking his cohorts, and even less in the selection of a landlady. Admittedly, the old but energetic Marva Munson isn´t much worried about what´s going on in her basement (where the thieves, on the pretence of practicing old music, are digging a tunnel), but at the same time she´s got a nose for nonsense. Does the plot seems familiar? The Coen brothers have remade Alexander Mackendrick´s 1955 film of the same name, considered the prototype of the English crime comedy.
About the director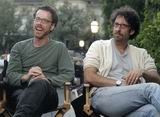 Joel (b. 1954, Minneapolis) and Ethan Coen (b. 1957, Minneapolis) shot 8 mm films as kids, then went on to become the well-known duo they are today. Although they work together and are both credited with the script, Joel is billed as director and Ethan as producer (although with The Ladykillers the latter is credited for the first time alongside his brother as director). Their films are a success because of their special brand of black humour, shocking naturalism, surprising reversals, an all-round oddity of story and situations. Filmography: Blood Simple (1984), Raising Arizona (1987), Miller's Crossing (1990), Barton Fink (1991), The Hudsucker Proxy (1994), Fargo (1996), The Big Lebowski (1998), O Brother, Where Art Thou? (2000), The Man Who Wasn't There (2001), Intolerable Cruelty (2003) and The Ladykillers (2004).
Contacts
Falcon a.s.
Radlická 1c/3185, 150 00, Praha 5
Czech Republic
Tel: +420 224 422 244
Fax: +420 224 422 240
E-mail: [email protected]
www: www.falcon.cz

About the film
Color, 35 mm

| | |
| --- | --- |
| Section: | Horizons |
| | |
| Director: | Ethan Coen, Joel Coen |
| Screenplay: | Joel Coen, Ethan Coen |
| Dir. of Photography: | Roger Deakins |
| Music: | Carter Burwell |
| Editor: | Roderick Jaynes |
| Producer: | Ethan Coel, Joel Coen, Tom Jacobson, Barry Sonnenfeld, Barry Josephson |
| Production: | Touchstone Pictures |
| Cast: | Tom Hanks, Irma P. Hall, Marlon Wayans, J.K. Simmons, Tzi Ma, Ryan Hurst, Diane Delano, George Wallace |
| Contact: | Falcon a.s. |
Guests
Jan Bradáč
Distributor, Cinema Representative, Producer
Svatava Peschková
Distributor