Kazakhstan / France
2003, 86 min

Section: East of the West - Competition
Year: 2004
The passive Bek and the eloquent Maxim work as salesmen in the Kazakh capital. They dress well and, encumbered with satchels, offer passers-by their cheap goods. Dreams of wealth remain dreams, especially for Bek. He has a hard time chatting up both clients and women. What will happen in the company reshuffle?
 
Synopsis
Bek and Maxim are salesmen in the Kazakh capital. They live in low-rent housing but take care to look sharp. Day after day they hit the streets weighed down with bags containing their cheap goods. While the articulate Russian Maxim is one of the best salesmen, Bek, a Kazakh, has trouble cajoling his clients into anything. Maxim tries to help by setting an example, endeavouring to teach his colleague the charm necessary to conquer. Bek´s idealism, however, is invincible. He falls in love with a superficial beauty. Unexpectedly, Max tells Bek that he has finally made arrangements to go to Germany. He has relatives there since his grandmother was a German. In parting he gives Bek a kitschy pendant which plays a melody when anyone whistles. In vain Bek tries to give it to his clients - a shining heart that has yet to touch a single soul. The Cottbus Film Festival is honoured to present Little Men (German premiere Cottbus 2003) in the section East of the West.
About the director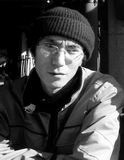 Nariman Turebayev (b. 1970, Kazakhstan) made student films at the Moscow Institute of Steel and Alloys and at the Kazakhstan Arts Academy before becoming a screenwriter and assistant on Ardak Amirkulov´s 1977. Turebayev´s short film Romantika (2000) won the novelty and style prize at the Almaty student film festival. In 2001, he served as assistant director on Darezhan Omirbayev´s The Road, and directed the sardonic short, Antiromantika, which screened at Cannes and won the Grand Prix at the Angers Film Festival.   
Contacts
ARTE France Cinéma
8, rue Marceau, 927 85, Issy les Moulineaux
France
Tel: +33 1 550 077 77
Fax: +33 1 550 077 00
www: www.arte-tv.com

About the film
Color, 35 mm

| | |
| --- | --- |
| Section: | East of the West - Competition |
| | |
| Director: | Nariman Turebayev |
| Screenplay: | Nariman Turebajev / Nariman Turebayev |
| Dir. of Photography: | Boris Trošev / Boris Troshev |
| Music: | Kazbek Spanov |
| Editor: | Andrej Vlaznev / Andrei Vlaznev |
| Producer: | Abderrahmane Sissako |
| Production: | Kadam, Duo Films, koprodukce / coproduction: ARTE France |
| Cast: | Erjan Bekmuratov, Oleg Kerimov, Lyazat Dautova, Mira Abdulina, Serik Nurebekov |
| Contact: | ARTE France Cinéma |