Archive of films

Escape to Paradise / Escape to Paradise
Switzerland
2001, 90 min

Section: Horizons - Awarded Films
Year: 2002
Sehmuz decides to emigrate from Kurdistan to Switzerland with his wife and children. They finally get there and are placed in a refugee camp where they await the dreaded interview which will decide Award Best Actor at the San Sebastian IFF.
Synopsis
Night time, a train station in Switzerland. On a bench sit a man, woman and three children, they are feeling exhausted and wretched but happy that they have made it. They managed to get out of Kurdistan and find their way to their promised land – Switzerland. They are picked up by a Kurdish friend who takes them to a refugee reception centre. Sehmuz submits a request for asylum for his whole family, after which they are moved to the refugee camp. Here, everyone is waiting nervously for the dreaded interview which will decide who is granted asylum. Sehmuz resolves to do anything to ensure his family is granted asylum. He asks for help from his friend Aziz who knows where to get the "true" story of Sehmuz's discrimination and even confirmation of the torture he had to endure in prison. What appears to be a guarantee of asylum, however, completely changes when Aziz, who tells one of these "true" stories, is refused asylum: being there doesn't mean you're home by any means. The film was screened in competition at the San Sebastian IFF where it won Best Actor and the FIPRESCI Award .
About the director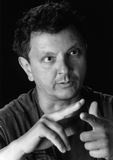 Nino Jacusso (b. 1955, southern Italy) emigrated with his parents to Switzerland in 1960. In 1974-1978 he studied at the Film and Television School in Munich. He became a director of documentary and feature films in 1978, and since 1988 he has been working with Insert Film in Solothurn. Filmography: Jugendliebe (1975, experimental film), Kinderspiele (1977, short), Lilith (1978, experimental film), Emigrazione (1979, doc.), Ritorno a casa (1980, doc.), Klassengeflüster (1982, feature), Hauptgasse 7 (1989, TV doc.), Bellinvitu – Die schöne Einladung (1992, feature), Dreckige Schweiz, saubere Schweiz (1995, TV doc.), Transito (2000, TV doc.), Escape to Paradise (2001, feature).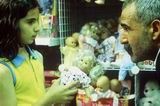 + 1
About the film
Black & white, 35 mm

| | |
| --- | --- |
| Section: | Horizons - Awarded Films |
| | |
| Director: | Nino Jacusso |
| Screenplay: | Nino Jacusso |
| Dir. of Photography: | Daniel Leippert |
| Music: | BP P, Pedro Haldemann, Ben Jeger |
| Editor: | Nino Jacusso |
| Producer: | Ivo Kummer |
| Production: | Insert Film |
| Cast: | Düzgün Ayhan, Fidan Firat, Nurettin Yildiz, Walo Lüönd, Hasret Yeniyol, Onur Vurucu, Gizem Ayhan, Kazimet Firat, , Recep Babacan, Sevim Vurucu, Gadas Ayhan, Jerlija Xhelit, Ahmet Gijukaj |