Italy
2001, 97 min

Section: Another View
Year: 2002
A film which starts out as a crime story but in reality is more a study of lack of communication in the modern world, with crime as its consequence. Marco is burdened with a trauma from the past which leads him to commit patricide, but more by chance than through intent.
Synopsis
Marco decides to visit his father who has long since left the family, but an argument leads to the latter's tragic death. Marco leaves the scene of the crime but rents a hotel room in a nearby sea resort, as if he intended to merge with the tourists but at the same time watch as further events unfold. The case is entrusted to inspector Rinaldi who soon discovers the identity of the murderer but also realises that this was not an ordinary crime committed for personal gain. He believes that the motive for the crime must have been a trauma which has burdened Marco since his childhood. Marco doesn't give the impression of a murderer who tries to cover up his tracks; on the contrary, he appears to be waiting for his arrest, as if this would finally bring about a catharsis of his constant state of anxiety.
About the director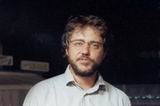 Andrea Porporati has written two novels published by Mondadori, La felicita impura (1990) and Nessun dolore (1993). He also co-wrote scripts for films by Carlo Lizzani and Gianni Amelio. In 2000 he debuted with the short film Quello che osso permettermi. Empty Eyes is his first feature.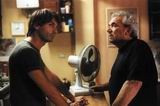 + 1
About the film
Black & white, 35 mm

| | |
| --- | --- |
| Section: | Another View |
| | |
| Director: | Andrea Porporati |
| Screenplay: | Andrea Porporati |
| Dir. of Photography: | Franco Lecca |
| Music: | Andrea Guerra |
| Editor: | Simona Paggi |
| Producer: | Maurizio Tedesco, Marco Risi |
| Production: | Sorpasso Film v koprodukci/in coproduction with Rai Cinema |
| Cast: | Fabrizio Gifuni, Valerio Mastandrea, Gianni Cavina, Delia Boccardo, Emanuela Macchniz, Margherita Cenni, Maurizio Donadoni, Cinzia Mascoli, Michele Zattara, Filippo Angelini, Romuald Klos |