Archive of films

Euro Pudding / L´ auberge espagnole
France / Spain
2002, 100 min

Section: Official Selection - Competition
Year: 2002
The quite ordinary French boy Xavier sets off for Barcelona as part of the Erasmus programme in order to learn Spanish. New friends, new experiences and chiefly life in a flat shared with seven other students from all corners of Europe, provide Xavier with the kind of education which teaches him to recognise what he certainly doesn't want to be.
Synopsis
Xavier is a student at the School of Economics in Paris and an acquaintance of his father has promised him a position at the Ministry of Finance once he has completed his studies, on condition that he learn Spanish. Thanks to assistance from the Erasmus programme, Xavier says goodbye to his mother and girlfriend and flies off to Barcelona. He finds it difficult getting accommodation but eventually moves into a flat already occupied by another seven students, each from a different corner of Europe. New friends, new experiences, the chaotic but nevertheless harmonious coexistence of young people of different nationalities, different customs and orientation – these all provide Xavier with the kind of instruction which ensures his transition to manhood. All the certainties of his life until now, including love, are cast into doubt Xavier doesn't even recognise himself anymore. When he returns home, he's not really aware of exactly what he wants, but he certainly knows what he doesn't want. "This is a film which is reminiscent of novels about student years or the process of initiation", says the filmmaker, whose screenplay was inspired by the experiences of relatives and friends.
About the director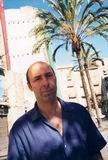 Cédric Klapisch (1961, Neuilly-sur-Seine, France) studied in France and then left for New York (1983-85) and worked as a cameraman and director of several short films. After his return to his native country he made the short In Transit (1986), awarded in Lille and Clermond-Ferrand. His next short Ce qui me meut (1989) also won awards. His first feature film Rien du tout (1991) was nominated for a César, and several awards also went to the film Le péril jeune (1993). The comedy Chacun cherche son chat (1995) won international recognition, after which followed Un air de famille (1996), Peut-etre (1998-99), Ni pour, ni contre, bien au contraire (2001) and Euro Pudding(2002).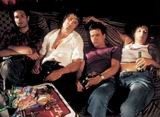 + 1
About the film
Black & white, 35 mm

| | |
| --- | --- |
| Section: | Official Selection - Competition |
| | |
| Director: | Cédric Klapisch |
| Screenplay: | Cédric Klapisch |
| Dir. of Photography: | Dominique Colin |
| Editor: | Francine Sandberg |
| Producer: | Bruno Levy, Jacques Royer |
| Production: | Ce Qui Me Meut |
| Cast: | Romain Duris, Cécile De France, Judith Godreche, Audrey Tautou, Kelly Reilly, Xavier De Guillebon, Kevin Bishop, Federico D´Anna |