Archive of films

Pleasure Is Mine / El placer es mío
Mexico
2015, 93 min

Section: A Female Take on Mexico

Year: 2016
Lovers Mateo and Rita move to the country where their romantic relationship is unexpectedly put to the test – with less than stellar results. The filmmaker's style is defined by explicit sex scenes reflecting the attitudes and feelings of her somewhat unbalanced generation.
Synopsis
Rita and Mateo move out of the city and take up residence in Mateo's late father's country house in the hope that they will live more healthily and save money. Everything goes well initially, apart from Rita getting a bit touchy when Mateo refuses to take risks during their tempestuous bouts of sex. The lovers settle in and continue the pursuits that interest them: Mateo repairs old cars and Rita works long-distance as a designer. A visit from Mateo's cousin and her young daughter and boyfriend takes Rita by surprise; the woman is pretty open about her past relations with Mateo, and she asks Rita some intrusive questions. The harmony between the couple begins to fragment: Rita isn't able to suppress her fits of jealousy and both partners feel misunderstood. Rita's mother and grandmother also pay a visit, but the couple can't regain their sense of cohesion. What's more, boredom starts to creep into their relationship as well. Elisa Miller projects the sentiments of her generation into her second feature film, reflecting their notions of a new kind of relationship which is unable to liberate itself from traditional models.
Eva Zaoralová (2012)
About the director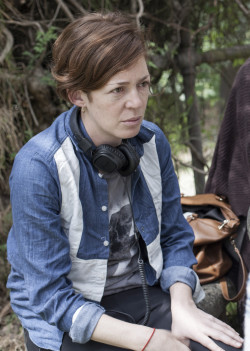 Elisa Miller (b. 1982, Mexico City) studied English literature at Universidad Nacional Autónoma de México, and film at Centro de Capacitación Cinematográfica, the most modern film school in Latin America. Her debut Watching It Rain (Ver llover, 2006) won the Palme d'Or as Best Short Film and the Norman McLaren Award at Cannes in 2007. Other films: Roma (2008, short), Alicia, Go Yonder (Vete más lejos, Alicia, 2010), About Sarah (2014, documentary), La leyenda del carro rojo (2015, short), The Pleasure Is Mine (2016).
About the film
Color, DCP

| | |
| --- | --- |
| Section: | A Female Take on Mexico |
| | |
| Director: | Elisa Miller |
| Screenplay: | Elisa Miller, Gabriela Vidal |
| Dir. of Photography: | Matías Penachino |
| Editor: | Yibrán Asuad, María Calle |
| Art Director: | Claudio Castelli |
| Producer: | Christian Valdelièvre, Jaime B. Ramos, Fernando Eimbcke |
| Production: | Cinepantera |
| Cast: | Flor Edwarda Gurrola, Fausto Alzati, Camila Sodi |
| Sales: | Capricci Films |