Mexico / Canada
2012, 61 min

Section: A Female Take on Mexico

Year: 2016
They have spent their entire lives here, but now the remaining inhabitants of Fogo Island have to leave their mystically beautiful yet almost uninhabitable home. But what if they decide to remain in this desolate region in defiance of their inevitable destiny?
Synopsis
A cold, bracing wind sweeping across the undulating terrain, remnants of collapsed dwellings, a scene of sorrow and desolation. This is a region that, at first glance, seems inhospitable and uninviting; the conditions here have deteriorated to the extent that the local inhabitants have had to leave, yet for a group of elderly male residents this is their only home and they refuse to abandon it. Nevertheless, once the last ferry leaves the day after tomorrow, what hope will they have of surviving? Instead of giving clear answers to existential questions, this contemplative film by Yulene Olaizola seeks to capture the location's raw environment in its entirety. The director remains in the background as an observer, respecting the natural character of the landscape captured in her lens and, in doing so, allows her hypnotic work to probe deeply into the chosen setting. The result is a highly engaging piece, further enhanced by its photogenic qualities, which presents a nostalgic but not oppressive portrait of the unique Cape Verde archipelago.
Sandra Hezinová
About the director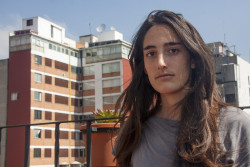 Yulene Olaizola (b. 1983, Mexico City) shot several short films during her studies at the Centro de Capacitación Cinematográfica. She graduated with the award-winning documentary The Intimacies of Shakespeare and Victor Hugo (Intimidades de Shakespeare y Víctor Hugo, 2008), which was screened at BAFICI, IDFA and the San Sebastián IFF. Her first feature Artificial Paradises (Paraísos artificiales, 2011) had its world premiere at the Rotterdam IFF and won Best Cinematography at the Tribeca festival. Apart from Fogo (2012), which was included in Directors' Fortnight at Cannes, she also co-directed the formally exquisite Epitaph (Epitafio, 2015).
Contacts
Pascale Ramonda
91 rue de Ménilmontant, 75020, Paris
France
Tel: +33 662 013 241
E-mail: [email protected]

About the film
Color, DCP

| | |
| --- | --- |
| Section: | A Female Take on Mexico |
| | |
| Director: | Yulene Olaizola |
| Screenplay: | Yulene Olaizola, Rubén Imaz, Diego García |
| Dir. of Photography: | Diego García |
| Music: | Pauline Oliveros |
| Editor: | Rubén Imaz |
| Producer: | Yulene Olaizola, Rubén Imaz |
| Production: | Malacosa CINE |
| Coproduction: | IMCINE - Mexican Film Institute, The Fogo Island Arts Corporation |
| Cast: | Norman Foley, Ron Broders, Joseph Dywer |
| Sales: | Pascale Ramonda |