Spain
2016, 93 min

Section: Documentary Films - Competition
Year: 2016
Miguel Ángel, an itinerant projectionist who fell in love with celluloid in his young days, witnessed the arrival of digital film projection and is slowly coming to terms with the fact that, for his small business, the coming summer season may be his last. This observational film tells a very human story which intersects with an account of a profession in inevitable decline.
Synopsis
For the past three decades projectionist Miguel Ángel has been travelling all over Spain where he organises improvised open-air film screenings during the summer. This quirky man, whose two life passions are time-honoured 35mm film and the flamenco, has nevertheless been experiencing hard times in recent years. He has witnessed the decline of celluloid film, relentlessly driven out by digital formats. But the costs of new projection equipment, which offers an almost inhumanly perfect visual experience, are considerable; the economic crisis affecting Spain hasn't helped, either. For Miguel Ángel's travelling cinema the coming summer might well be the last. The debuting director recasts a very human story into a discourse on a profession in gradual decline. Her precisely composed observational documentary might also be taken as a more general belief that technical progress needn't necessarily benefit society since it might cause us to lose sight of certain values.
Martin Horyna
About the director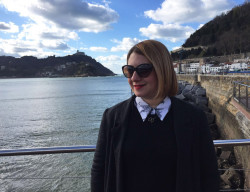 Leire Apellaniz (b. 1977) has worked in the technical departments of leading Spanish film festivals; in the past she prepared the groundwork for the festivals in Seville and Las Palmas, and she is currently head of the technical department for the prestigious San Sebastián IFF. In The Last Summer, her directing debut, she paints a portrait of Miguel Ángel Rodríguez, the man who taught her how to project 35 mm prints. For Apellaniz, he also embodies the sorrow associated with the sudden decline of celluloid, driven out by digital screening formats. As producer she worked on the shorts Loop (Bucle, 2011) and Cholera (Cólera, 2014); she was also involved in the production side of the feature film The Arrieta Method (El método Arrieta, 2013). She is executive producer on three planned projects: the short The Escape (Ihesa) and the features My Dearest Spy (Mi querido espía) and The Advantages of Travelling by Train (Ventajas de viajar en tren).
Contacts
Señor y Señora S.L.
Ametzagaina 9, bajo, 20012, Donostia – San Sebastián
Spain
Tel: +34 672 310 181
E-mail: [email protected]

About the film
Color, DCP
European premiere
| | |
| --- | --- |
| Section: | Documentary Films - Competition |
| | |
| Director: | Leire Apellaniz |
| Screenplay: | Leire Apellaniz |
| Dir. of Photography: | Javi Aguirre Erauso, Aritz Moreno |
| Editor: | Marcos Flórez |
| Producer: | Leire Apellaniz |
| Production: | Señor y Señora S.L. |
| Contact: | Señor y Señora S.L. |
Guests
Leire Apellaniz
Film Director, Festival Organizer
Miguel Angel Rodriguez
Protagonist
Sonia Uría Martín
Public Relations
Marcos Flórez García
Film Editor
Alejandro Díaz Castaño
Festival Organizer