Archive of films

Together For Ever / Amžinai kartu
Lithuania / Romania
2016, 88 min

Section: East of the West - Competition
Year: 2016
A three-member family forms a fragile association of isolated individuals who desire love and understanding without knowing how to find it. And so together they spin a web of white lies that merely manage to pour salt into unhealed wounds. A writer-director debut for a Lithuanian helmer that investigates loneliness and the battle to escape it.
Synopsis
An apparently contented three-member family is on its way to a gala concert. The mother is excited, the daughter is bored, and the only thing that keeps the father from falling asleep is an urgent phone call. Their differing interests, however, run deeper. Soon enough it becomes clear that their life together, in fact, represents three separate parallel existences devoid of any visible effort to achieve mutual understanding. White lies grow into deep wounds that intensify unawares during a minor home emergency. In her debut feature, Lithuanian director Lina Lužytė posits the family as the primary social unit to thematize communication gridlock as a diagnosis of today's society. Each of the characters longs to be loved and understood but manages to express this only through cheap emotional traps that brutalize the feelings of others. In her understated grasp of the family drama one can clearly feel the director's documentary work, as well as her interest in deep-seated traumas of social consciousness as she demonstrated in her prior short films.
Kamila Dolotina
About the director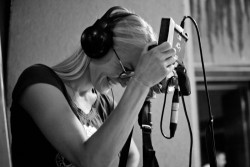 Lina Lužytė (b. 1985, Vilnius) graduated in film direction in Vilnius in 2011; she is now engaged in screenwriting, and in making documentaries and dramas. She has lectured at Lithuania's Skalvija Film Academy since 2009. Her short dramatic work It Would Be Splendid, Yet (Jau puiki, tir dar siek tiek, 2009) adopts a tragicomic slant as it follows the search for new identities in the Baltics shortly after the fall of the Soviet Union. The documentary Toys (Igrushki, 2010) sketches a portrait of the destitute inhabitants of a Belarusian provincial town who earn a living selling stuffed animals to passing international train passengers while being chased by the police. Her feature debut Together For Ever (2016) uses the relationships within a three-member family to investigate what a person is willing to do in order not to feel alone.
About the film
Color, DCP
World premiere
| | |
| --- | --- |
| Section: | East of the West - Competition |
| | |
| Director: | Lina Lužytė |
| Screenplay: | Lina Lužytė |
| Dir. of Photography: | Oleg Mutu |
| Editor: | Benjamin Mirguet, Lina Lužytė, Tatu Ioan-Stefan |
| Art Director: | Sigita Šimkūnaitė |
| Producer: | Dagnė Vildžiūnaitė |
| Production: | Just a moment |
| Coproduction: | Alien Film |
| Cast: | Gabija Jaraminaitė, Dainius Gavenonis, Eila Grybinaitė, Giedrius Savickas, Rasa Samuolytė |
| Contact: | Just a moment |
Guests
Lina Lužytė
Film Director
Dagnė Vildžiūnaite
Producer
Liana Ruokytė-Jonsson
Film Institution Rep.
Gabija Jaraminaite
Actress
Justinas Vancevicius
Distributor, Festival Organizer