Archive of films

Land of the Enlightened / The Land of the Enlightened
Belgium / Ireland / Netherlands / Germany / Afghanistan
2016, 87 min

Section: Horizons
Year: 2016
Afghan children know that a landmine can be a valuable find. If you can carefully dig it out, you can sell it at a profit. A gang of kids spend their free time doing just that in a country whose landscape is both harsh and hauntingly beautiful. This visually sensitive feature interweaves strands of documentary, fantasy, and myth from a land where war is a fixed reality.

Synopsis
A gang of Afghan kids dig up old Soviet landmines and then sell the explosives to another group of kids working in a mine. Another children's gang controls the trade routes in the arid Pamir Mountains, robbing individual caravans. Still other kids, in contrast, use the rusting tanks abandoned by various combatants as a kind of jungle gym. This generation represents the pain of the past but also the uncertainty of the future. The director captures their dreams and their efforts to survive. Partaking of both fiction and documentary, the film moves between modern fable, myth, and horrific wartime reality. Nevertheless, the director places great emphasis on the poetic formal treatment of a movie shot on 16 mm film stock. Slow-motion shots blend into time-lapse footage, and time becomes another of the work's motifs. Pieter-Jan De Pue spent seven years traveling to Afghanistan, visiting multiple regions, and interviewing the inhabitants; he was once even attacked by the Taliban. The result is an intimate portrait of the Afghan people, their way of life, and of the beautiful though impoverished landscape.
Michal Hogenauer
About the director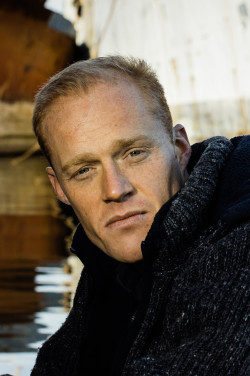 Pieter-Jan De Pue (b. 1982, Ghent, Belgium) is a photographer and independent filmmaker who completed studies at Brussels' Royal Institute for Theater, Cinema & Sound (RITCS) with the short documentary O (2006). The work takes up the significance of water and the lack of it, symbolically suggesting that humans must reconnect with nature. He debuted in documentary features with The Land of the Enlightened (2016), which premiered in competition at this year's Sundance festival and was honored with the Cinematography Award. Preparations for the movie required De Pue to travel frequently to Afghanistan, where he also documented the local inhabitants and the solitary landscape for the Red Cross. His photo work was then presented in numerous top publications and at a variety of galleries.
About the film
Color, DCP

| | |
| --- | --- |
| Section: | Horizons |
| | |
| Director: | Pieter-Jan De Pue |
| Screenplay: | Pieter-Jan De Pue, David Dusa |
| Dir. of Photography: | Pieter-Jan De Pue |
| Music: | Denis Clohessy |
| Editor: | David Dusa, Stijn Deconinck |
| Producer: | Bart Van Langendonck |
| Production: | Savage Film |
| Coproduction: | Fastnet Films, Submarine, Eyeworks, Gebrüder Beetz Filmproduktion |
| Sales: | Films Boutique |
Guests
Pieter-Jan De Pue
Film Director
Bart Van Langendonck
Producer
Grégoire Verbeke
Assistant Director