Archive of films

Lost in Munich / Ztraceni v Mnichově
Czech Republic
2015, 105 min

Section: Czech Films 2015–2016
Year: 2016
Wasn't the 1938 Munich Agreement actually a diplomatic victory? In Petr Zelenka's original comedy, a movie crew is trying to shoot some footage but one catastrophe after another prevents them, including the lead actor's allergy to parrots. This uniquely structured black comedy takes aim at filmmakers and eternal whiners.
Synopsis
Can the 1938 Munich Agreement, which forced Czechoslovakia to cede much of its border region to Germany, be perceived as a diplomatic victory? In his original comedy, Zelenka focuses on historian Jan Tesař, who sets out to deconstruct the myth of the Munich Agreement: that it was the greatest betrayal the Czech people ever suffered. The protagonists of Zelenka's picture – filmmakers – would like to convey the same message in their film-within-a-film about a journalist named Pavel who lives in modern-day Prague. He kidnaps a parrot, Sir P, a controversial feathered friend who can recall the circumstances surrounding the signing of the Agreement.… ​Bizarre circumstances, however, disrupt the shoot and the movie is never made.​ Lost in Munich is intriguing for its unique structure, with the initial sequences dedicated to the story of Pavel and the parrot, followed by the introduction of another film about desperate moviemakers struggling with one setback after another. In his absurd black comedy, Zelenka pokes ironic fun at both filmmaking and that aspect of the Czech national character which might be labeled self-pitying.
Jan Škoda
About the director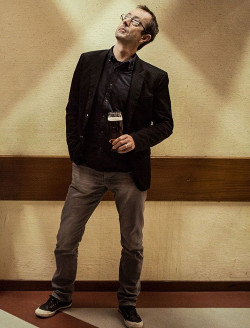 Petr Zelenka (b. 1967, Prague) is among the most highly-regarded Czech screenwriters and directors. He graduated in screenwriting and script editing from Prague's Film Academy (FAMU) in 1991 and later worked as a script editor for Barrandov Film Studios. His scripts include the short Allenesque piece Everything You Wanted to Know about Sex but Were Afraid to Experience (1988, dir. Jan Hřebejk) and the feature comedy Loners (2000, dir. David Ondříček). In 1993 he gained notice as a director with the fictional documentary feature Padlock (Visací zámek 1982–2007), following it up with Mňága – Happy End (1996). Then came his feature debut Buttoners (1997), Year of the Devil (2002 – Crystal Globe at KVIFF), an adaptation of his own stage play Wrong Side Up (2005), and the drama The Karamazovs (2008). His latest film Lost in Munich took the 2016 Czech Lion for Best Screenplay.
About the film
Color, DCP

| | |
| --- | --- |
| Section: | Czech Films 2015–2016 |
| | |
| Director: | Petr Zelenka |
| Screenplay: | Petr Zelenka |
| Dir. of Photography: | Alexander Šurkala |
| Music: | Matouš Hejl |
| Editor: | Vladimír Barák |
| Art Director: | Ondřej Nekvasil |
| Producer: | David Ondříček |
| Production: | Lucky Man Films s. r. o. |
| Coproduction: | Česká televize, Barrandov Studio |
| Cast: | Martin Myšička, Jitka Schneiderová, Marek Taclík, Stanislas Pierret, Jana Plodková, Václav Neužil, Tomáš Bambušek, Miroslav Škultéty, Prokop Holoubek, Kryštof Mucha |
| Contact: | Lucky Man Films s.r.o. |
| Distributor: | Falcon a.s. |
Guests
David Ondříček
Film Director, Producer
Alexander Šurkala
Other
Daria Špačková
Line-producer
Michal Holubec
Film Crew
Vladimír Barák
Film Editor, Film Editor
Vladimír Škultéty
Actor
Martin Myšička
Actor
Jana Plodková
Actress
Marek Taclík
Actor
Jitka Schneiderová
Actress
Václav Neužil
Actor