Belgium / France
2016, 126 min

Section: Horizons
Year: 2016
Brothers Frank and Jo haven't seen each other for years but they become much closer when Frank starts working in Jo's bar. Belgica fast becomes a club for the in-crowd where all life's troubles are quickly forgotten in the dark of night. A dynamic, emotive and masterfully shot movie in which both characters and their audience go flat out. But will they survive it?

Synopsis
Brothers Frank and Jo haven't been in contact for years, but then Frank starts working in his younger brother's bar, which turns out to be a great move. The dance floor groans under the weight of the packed crowd, rock 'n' roll splashes off the sweaty walls and, when the dark night takes over, it's the in place to let off steam. The Belgica becomes a club where the sky really is the limit – the intoxication and addiction to this frenzied lifestyle happen much faster than expected. In his latest film, director van Groeningen doesn't allow his heroes or his audience any downtime over the movie's two hours, quite the reverse: without compromise, with incredible visual force and at a blistering pace he draws them into a world where nothing's a game and everyone goes flat out. But will Frank and Jo be able to extricate their relationship from the alcohol, sex and drugs – while also finding themselves in the process? The superb music from eclectic Belgian band Soulwax only enhances the intense and profoundly sensual experience that the film brings.
Ivana Novotná
About the director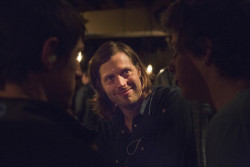 Felix van Groeningen (b. 1977, Ghent, Belgium) studied visual arts at KASK School of Arts in Ghent, graduating in 2002. He enjoyed huge success with The Unfortunates (De helaasheid der dingen, 2009), both at home and at the Istanbul IFF where it won the highest award, the grand prize Golden Tulip; the film was also seen by KVIFF audiences in 2010. His previous four feature titles, including his debut Steve + Sky (2004) and With Friends Like These (Dagen zonder lief, 2007). He is also interested in the stage and has written several plays for the Ghent-based theatre group Kung Fu, which he also often directs. In 2013, after its screening at Berlin and the Tribeca FF, The Broken Circle Breakdown was shown at KVIFF 48 in Variety's Ten Euro Directors to Watch. The film was nominated for the best foreign language film Oscar.
About the film
Color, DCP

| | |
| --- | --- |
| Section: | Horizons |
| | |
| Director: | Felix van Groeningen |
| Screenplay: | Arne Sierens, Felix van Groeningen |
| Dir. of Photography: | Ruben Impens |
| Music: | Soulwax |
| Editor: | Nico Leunen |
| Art Director: | Kurt Rigolle |
| Producer: | Dirk Impens |
| Production: | Menuet |
| Cast: | Stef Aerts, Tom Vermeir, Hélène Devos, Charlotte Vandermeersch |
| Sales: | The Match Factory |
| Distributor: | Artcam Films |
Guests
Felix van Groeningen
Film Director
Charlotte Adigéry
Other
Sylvie Leray
Distributor, Producer
Lies Vanborm
Other
Anna Kopecká
Distributor, Festival Organizer