USA
2016, 85 min

Section: Horizons
Year: 2016
Despite the fact that Jake is a sensitive introvert who dreams of attending art school, while impulsive Tony likes to run around outside with a ball, a strong bond of friendship cements between the two 13-year-old boys. But will it survive if their families fall out? A subtle picture about little things that mean a lot.

Synopsis
After the death of his grandfather, 13-year-old Jake and his family move into the Brooklyn home they just inherited. Even before they can unload their things from the car, they meet the charismatic Tony – the same aged son of the proprietor of a clothing store located on the ground floor of the building. Even as the kindred boys are quickly cementing their friendship, the relationship between their families becomes rather pointed. When the new owners request a rent increase, the Chilean-born tenant balks, unable to afford a greater financial outlay from her self-sustaining business. Can the kids' point of view change the adults' attitudes? This subtle picture, screened at Berlin and Sundance, proceeds from a simple narrative foundation, but one enriched by detail that adds depth and authenticity. The respected director thus once again confirms his reputation as a moviemaker capable of imbuing a work with a loving human aspect and proving that, on an individual level, it's the small things that mean a lot.
Sandra Hezinová
About the director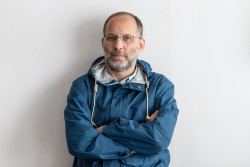 Ira Sachs (b. 1965, Memphis, Tennessee), screenwriter and director, is a noted personality of New York's queer community. He is the founder of Queer/Art, a non-profit arts organization that supports LGBTQ artists across a variety of disciplines and generations. He graduated in literature and film theory from Yale University, and his work is part of the permanent collections of the Whitney Museum of American Art and MoMA. His movies, which generally touch on gay themes, include Delta (1997 – Another View, KVIFF), Forty Shades of Blue (2005), Married Life (2007), Keep the Lights On (2012 – Another View, KVIFF), and Love Is Strange (2014 – Horizons, KVIFF). He and scriptwriter Mauricio Zacharias are presently writing a film about the actor Montgomery Clift, to be produced by HBO.
Contacts
Pascale Ramonda
91 rue de Ménilmontant, 75020, Paris
France
Tel: +33 662 013 241
E-mail: [email protected]

Mongrel International
1352 Dundas St. West, M6J 1Y2, Toronto
Canada
Tel: +1 416 516 0651
Fax: +1 416 516 9775
www: www.mongrelmedia.com

About the film
Color, DCP

| | |
| --- | --- |
| Section: | Horizons |
| | |
| Director: | Ira Sachs |
| Screenplay: | Mauricio Zacharias, Ira Sachs |
| Dir. of Photography: | Óscar Durán |
| Music: | Dickon Hinchlie |
| Editor: | Mollie Goldstein, Aonso Gonçalves |
| Art Director: | Alexandra Schaller |
| Producer: | Lucas Joaquin, Ira Sachs, Christos V. Konstantakopoulos, L.A. Teodosio, Jim A. Landé |
| Production: | Charlie Guidance Productions, Race Point Films, Faliro House |
| Cast: | Theo Taplitz, Michael Barbieri, Greg Kinnear, Jennifer Ehle, Paulina Garcia |
| Sales: | Mongrel International |
| Contact: | Pascale Ramonda |