A quiet journey through the architecture of three cities, across abstract interiors, to gallery and everyday living spaces in order to contemplate the relationship between time, space, and our human presence. A fascinating tribute to urbanism, art, and, above all, to the cinematography inspired by the municipal symphonies of silent film.

Synopsis
This quiet yet immersive journey through the architecture of three cities – abstract interiors, galleries, as well as everyday, weathered exteriors – contemplates the connection between space, time and our human presence. A fascinating tribute to urbanism, in which studies of light and shadow, the textures of surfaces and their materiality, shape, and reflection play a significant role. The notion of an integral relationship between the urbanscape and the motion picture camera is drawn from the famed "city symphonies" of 1920s silent film, in which moviemakers celebrated light and movement as essential elements of the cinematic image and, equally, as inherent traits of the emergent modern metropolis. Along its journey through the spaces of Toronto, São Paulo, and the Louvre in Paris, the film also explores earlier artistic representations, from painting to sculpture, and the methods used to interpret movement and the passing of time. The film itself approaches the level of fine art – indeed, many of its individual, compositionally inspired images would be suitable for framing.
Hubert Poul
About the director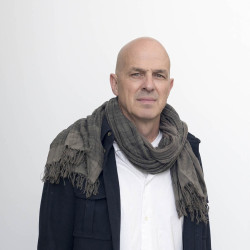 Mark Lewis (b. 1958, Hamilton, Ontario) is a leading visual artist who gained a name primarily creating video installations. He studied at London's Harrow School of Art and then at the Polytechnic of Central London, where he was influenced by conceptual artist Victor Bergin and film theorist Laura Mulvey. From career beginnings as a photographer he eventually moved over to film-based gallery installations informed by the conceptual art movement of the 1980s. The dozens of movies he has shot since that time have been exhibited at the likes of MoMA (New York), BFI Southbank (London), and the Centre Pompidou (Paris). Lewis is one of the few filmmakers permitted to shoot in London's National Gallery. The series of 14 shorts he created for the São Paulo Biennale and the Louvre museum were ultimately edited into the feature film Invention.
Contacts
National Film Board of Canada
3155 Cote de Liesse Rd., St-Laurent, H4N 2N4, Montreal, Quebec
Canada
Tel: +1 514 283 9805
Fax: +1 514 496 2573
E-mail: [email protected]
www: www.nfb.ca

About the film
Color, DCP

| | |
| --- | --- |
| Section: | Imagina |
| | |
| Director: | Mark Lewis |
| Screenplay: | Mark Lewis |
| Dir. of Photography: | Martin Testar, Bobby Shore CSC |
| Editor: | Andrew Hulme |
| Producer: | Eve Gabereau, Gerry Flahive, Anita Lee |
| Production: | Mark Lewis Studio |
| Coproduction: | National Film Board of Canada, SODA Film + Art |
| Sales: | National Film Board of Canada |