A visual experiment inventively exploring the possibilities of capturing a three-dimensional space with a two-dimensional video camera. This careful consideration of the perception of space, which allows us to enter deep into a camera's perspective, is graced with minimalist elegance and creative intrigue.
Synopsis
The first of a planned series of films in which the German director uses framing and perspective to explore the visualization of three-dimensional space through the two-dimensional medium of a video camera. In the filmmaker's own words "the project is simply a research into space and how we experience it." The resulting visual experiment allows us to enter into a camera's perspective and, at the same time, to experience firsthand the changing nature of our initially-duped perception. Minimalist elegance and creative intrigue accompany the inherently simple concept.
Hubert Poul
About the director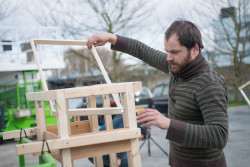 Johannes Langkamp (b. 1985, Laer, Germany) graduated in fine art from the Academy of Art & Design (AKI) of the ArtEZ Institute of the Arts in the Netherlands. His work experiments with the ways video cameras and smartphones deal with perspective and movement, while the camera usually takes on the role of protagonist in his films. Solo exhibitions of his work have recently taken place in China and Germany.
Contacts
Video Power
Sint Annalaan 1,, 6214AA, Maastricht
Netherlands
Tel: +31 621 802 691
E-mail: [email protected]