This lightly lyrical documentary takes us to a remote corner of Japan, where a community of traditional pearl hunters sets out to sea each day to dive down several metres below the surface in search of shellfish, octopuses, sea urchins and lobsters. If we adjust our breathing rhythm to the tranquil tempo of the passing scenes we will be rewarded with a fascinating world where, in equal measure, time-honoured rituals and companionable warmth introduce a sense of requisite harmony.
Synopsis
A remote corner of Japan is home to a community of traditional pearl hunters living out a wonderful harmonious existence. Each day they set out to sea and, with no professional equipment to aid them, dive several metres below the surface to retrieve shellfish, octopuses, sea urchins and lobsters. The tranquil scenes that survey their homes, the gently undulating fishing boat, and the sea itself, capture the instinctive, if muted, emotions and the exceptional stillness of the surface of time, untroubled by the haste of the modern world; the film thus allows us to appreciate the essentials that an ordinary travelogue might easily overlook. This subtly lyrical piece, which opens up to us as we adjust our breathing rhythm to its soothing tempo, embraces a now forgotten profession in order to highlight the importance of rituals in our society. Whether these involve the careful tying of traditional headscarves, the preparation and sharing of local dishes, or a spot of karaoke with friends, the common theme is the warmth of ceremony that fully sustains and bonds the lives of the three generations of women portrayed in this film.
Martin Horyna
About the director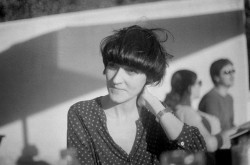 Cláudia Varejão (b. 1980, Porto, Portugal), director and photographer, enrolled in the Creativity and Artistic Creation Programme offered by the Calouste Gulbenkian Foundation and studied at Berlin's Film and Television Academy and São Paulo's International Film Academy. She also studied photography at the Art and Visual Communication Centre (Ar.Co) in Lisbon. She directed the 20-minute documentary Wanting (Falta-me, 2005) and the short features Weekend (Fim-de-semana, 2007), Cold Day (Um dia frio, 2010), Morning Light (Luz da manhã, 2012) and Sowing Time (Semear o tempo, 2015). In her feature-length debut In the Darkness of the Theater I Take off My Shoes (No escuro do cinema descalço os sapatos, 2016), screened this spring at the Cinéma du Réel festival in Paris, she observes the daily routines of dancers and other employees of Portugal's National Ballet Company. Ama-San is her second feature-length film.
About the film
Color, DCP
European premiere
| | |
| --- | --- |
| Section: | Documentary Films - Competition |
| | |
| Director: | Cláudia Varejão |
| Screenplay: | Cláudia Varejão |
| Dir. of Photography: | Cláudia Varejão |
| Editor: | João Braz, Cláudia Varejão |
| Producer: | João Matos |
| Production: | Terratreme Filmes |
| Coproduction: | Mira Film, Flying Pillow Films |
| Contact: | Terratreme Filmes |
Guests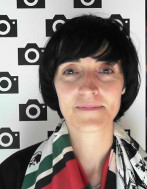 Cláudia Varejão
Film Director