Clara, sixty and still beautiful, refuses to move out of her house, called Aquarius, even though she is now the sole occupant. The investor, who intends to demolish the building, keeps offering her compensation, but doesn't get anywhere. And trying to make her life difficult doesn't get him anywhere, either. Clara won't bow to pressure. A former star of Latin America, Sonia Braga basks in the pure drama of her role as Clara. The new film by the maker of Neighboring Sounds competed in Cannes this year for the Palme d'Or.

Synopsis
In a famous avenue running along the coast, in a former bourgeois part of the city of Recife, stands a house with the name Aquarius, built in the 1940s. Its occupants have gradually moved away and the only person still living there is Clara, a retired music critic who stubbornly refuses to leave the apartment where she grew up and lived with her family. The investor, who plans to demolish the building, keeps offering her compensation and trying to make her life difficult in every way possible, but all to no avail. Clara, still beautiful at sixty – played by the erstwhile icon of Latin-American cinema Sonia Braga – continues to live the life she has always known as an attractive and wealthy woman. She rejoices in the fact that she managed to survive cancer, and memories of her younger days don't stop her having a healthy appetite for sex. She continues to see her family and friends and she isn't too concerned that she's taking advantage of the similarly aged housekeeper and her relatives. In fact, the filmmaker will have us believe that relations between the classes are certainly much more relaxed in Brazil than elsewhere in the world.
Eva Zaoralová (2012)
About the director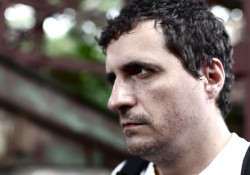 Kleber Mendonça Filho (b. 1968, Recife, Brazil) has lived since childhood in the northeastern Brazilian city of Recife, where he studied journalism at Universidade Federal de Pernambuco, after which he worked for various journals. During the 1990s he shot documentaries, videos and experimental films. In the period 2003-2009 he directed short films based on his own scripts. In 2008 he gained attention for his feature-length documentary Critic (Crítico). This was followed by Neighboring Sounds (O Som ao Redor, 2012), which won the FIPRESCI Prize at Rotterdam, and Aquarius (2016), screened in the main competition at the 69th Cannes IFF.
Contacts
SBS International
29, rue Danielle Casanova, 75002, Paris
France
Tel: +33 145 636 662
E-mail: [email protected]

About the film
Color, DCP

| | |
| --- | --- |
| Section: | Horizons |
| | |
| Director: | Kleber Mendonça Filho |
| Screenplay: | Kleber Mendonça Filho |
| Dir. of Photography: | Pedro Sotero, Fabricio Tadeu |
| Editor: | Eduardo Serrano |
| Art Director: | Juliano Dornelles, Thales Junqueira |
| Producer: | Saïd Ben Saïd, Emilie Lesclaux, Michel Merkt |
| Production: | CinemaScópio, SBS Films |
| Cast: | Sonia Braga, Maeve Jinkings, Irandhir Santos, Humberto Carrão |
| Sales: | SBS International |