Léon is a professional hitman who cleans up other people's messes with surgical precision. But when 12-year-old Mathilda shows up at his apartment door, the loner's routine life takes an unexpected turn. Luc Besson's cult thriller became a milestone in the career of actor Jean Reno, who imbued the withdrawn killer with an irresistible seductiveness.
Synopsis
A humorless professional hitman who will clean up anyone's mess with surgical precision. That's Léon (Jean Reno), an oddball of New York's underworld, who drinks nothing but milk and whose most intimate relationship involves a houseplant. Normally bound by routine, his life is one day turned inside out when 12-year-old Mathilda (Natalie Portman) turns up at his apartment door after narrowly escaping the bloodbath orchestrated by corrupt cop Stansfield (Gary Oldman) against her entire family. An unexpectedly strong bond grows between the cold-blooded killer and the pushy little girl who's out for revenge – but the coming confrontation with psychopath Stansfield bodes nothing but ill… Luc Besson's cult thriller became a milestone in Jean Reno's career: the actor incorporates the movie's melancholy mood into his character, while also giving the withdrawn killer an irresistible seductiveness.

Martin Horyna
About the director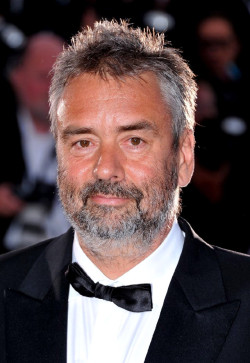 Luc Besson (b. 1959, Paris) made a name for himself at the beginning of the 1980s as one of a new breed of filmmakers influenced by a postmodern esthetic. After the sci-fi parable The Last Battle (Le dernier combat, 1982) and the crime romance Subway (1985), he shot the cult picture The Big Blue (Le grand bleu, 1988), reflecting his lifelong passion for diving. Then came the action thriller La Femme Nikita (1990), the poetic underwater documentary Atlantis (1991), and the nontraditional thriller – the purported pinnacle of his directing career – Léon: The Professional (1994). He earned worldwide success with the sci-fi flick The Fifth Element (1997), the historical drama Joan of Arc (1999), and Angel-A (2005; Horizons, KVIFF 41). In the new millennium Besson shot three family films involving ten-year-old Arthur, as well as the adventure fantasy Adèle and the Secret of the Mummy (2010), the biopic The Lady (2011), the crime comedy The Family (2013), and the action sci-fi movie Lucy (2014).

About the film
Color, DCP

| | |
| --- | --- |
| Section: | Special Events |
| | |
| Director: | Luc Besson |
| Screenplay: | Luc Besson |
| Dir. of Photography: | Thierry Arbogast |
| Music: | Éric Serra |
| Editor: | Sylvie Landra |
| Art Director: | Gérard Drolon |
| Producer: | Patrice Ledoux, Luc Besson, Claude Besson |
| Production: | Gaumont, Les Films du Dauphin |
| Cast: | Jean Reno, Natalie Portman, Gary Oldman, Danny Aiello |
| Sales: | Gaumont |