Czech Republic
2016, 25 min

Section: Czech Films 2016–2017
Year: 2017
A family celebration is once again reduced to small talk and stock phrases, but one member may find the strength to defy routine and open up a family secret. In Johana Švarcová's black-humoured drama there is someone, however, who intends to preserve the congenial atmosphere at all costs.
Synopsis
At family celebrations the conversation can go on for hours without anyone saying anything important. The party atmosphere in this case appears to be made up of a series of standard expressions and stock phrases, namely small-talk waffle that replaces any kind of sincere human interaction. Everyone sitting round the table seems to be following a script, and any deviation is unacceptable. But this is what the heroine of this graduation film is trying to accomplish and, in doing so, she may find the courage to bring a family secret into the open. A black-humoured drama about the important things that life's banalities prevent us from ever saying.

Jan Škoda
About the director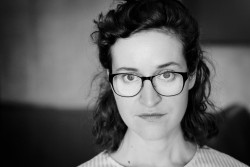 Johana Švarcová (b. 1983, Liberec, Czechoslovakia) is a director, documentarist, actress, musician and performer, having graduated in film direction from FAMU. In 2013 she shot Hi, I'm Doing Fine, which brought her awards from the Fresh Film Fest and the Poitiers FF in France. She was also successful with Familiar Strangers (2015) and Process (2015). Black Cake won Best Film and Best Director at Famufest in 2016. She is currently putting together her feature-length documentary The Sound Is Innocent.

About the film
Color, DCP

| | |
| --- | --- |
| Section: | Czech Films 2016–2017 |
| | |
| Director: | Johana Ožvold |
| Screenplay: | Johana Švarcová, Kristina Májová |
| Dir. of Photography: | Šimon Dvořáček |
| Music: | Johana Švarcová, Martin Ožvold |
| Editor: | Adam Patyk |
| Art Director: | Barbora Zelníčková |
| Producer: | Ondřej Šejnoha |
| Production: | Studio FAMU |
| Cast: | Ester Geislerová, Barbora Milotová, Taťjana Medvecká, Ján Sedal, Radek Beran, Natálie Řehořová, Václav Neužil, Jaroslava Pokorná |
| Contact: | Jakub Vacík |
Guests
Johana Ožvold
Film Director
Ester Geislerová
Actor
Václav Neužil
Actor
Taťjana Medvecká
Actor
Kristina Májová
Screenwriter
Marek Dusil
Producer
Magdaléna Rothová