Czech Republic / Slovak Republic
2016, 114 min

Section: Czech Films 2016–2017
Year: 2017
Diplomat Jan Masaryk had to confront both his inner demons and major historical events whose severe consequences he tried to overturn in London just before the signing of the Munich Agreement. Employing two different timelines, director Julius Ševčík tells the story of a man who felt betrayed on too many fronts. A Prominent Patient was the recipient of twelve Czech Lions.
Synopsis
"Do I have to keep hearing that name?" asks Czechoslovak diplomat Jan Masaryk when he is once again reminded of the legacy left by his father, Tomáš Garrigue Masaryk, the first President of Czechoslovakia. His heritage, however, isn't the only thing weighing heavily on his mind. In Julius Ševčík's historical drama Karel Roden's Masaryk has to confront his inner demons, as well as major historical events whose severe outcome he endeavours to reverse. Ševčík traces Masaryk's struggle along two narrative lines. After the signing of the Munich Agreement the diplomat retreats to a psychiatric hospital in America and, via a series of flashbacks, we witness his futile attempts to persuade world powers to take Czechoslovakia's side. The creators of this persuasive film reconstruct fundamental milestones in world history, while also attempting to capture the mental state of a complex man who stood up for his betrayed country while feeling betrayed himself. A Prominent Patient won a record twelve Czech Lion Awards, including Best Film of 2016.

Jan Škoda
About the director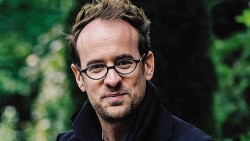 Julius Ševčík (b. 1978, Prague) began to make a name for himself while he was still studying at the New York Film Academy, turning out the four-minute black-and-white film The Spiral (1997), which he also wrote. From 1999 to 2005 he worked as a director of commercials and short films. He completed his feature-film directors' course at Prague's FAMU with the formally unconventional Restart (2005). His medium-length college piece 51 Kilohertz (2003) garnered awards at a number of foreign festivals (incl. Rome, Rio de Janeiro, Clermont-Ferrand). His distinctive approach to form is again evident in the 2009 thriller Normal, starring Milan Kňažko and Dagmar Havlová. He lives and works both in the Czech Republic and in Los Angeles.

About the film
Color, DCP

| | |
| --- | --- |
| Section: | Czech Films 2016–2017 |
| | |
| Director: | Julius Ševčík |
| Screenplay: | Petr Kolečko, Alex Koenigsmark, Julius Ševčík |
| Dir. of Photography: | Martin Štrba |
| Music: | Michał Lorenc, Kryštof Marek |
| Editor: | Marek Opatrný |
| Art Director: | Milan Býček |
| Producer: | Rudolf Biermann |
| Production: | In Film Praha s.r.o. |
| Coproduction: | Česká televize, RTVS, ZDF / ARTE |
| Cast: | Karel Roden, Hanns Zischler, Oldřich Kaiser, Arly Jover, |
| Sales: | Beta Cinema GmbH |
| Contact: | In Film Praha s.r.o. |
| Distributor: | Bioscop (Magicbox a.s.) |
| | |
| www: | www.aprominentpatient.com |
Guests
Karel Roden
Actor
Rudolf Biermann
Producer
Martin Štrba
Director of Photography, Film Director
Petr Kolečko
Screenwriter
Milan Býček
Film Crew
Katarína Štrbová Bieliková
Costume Designer
Josefína Borecká
Jaroslav Sedláček
Producer