Archive of films

Waiting for Ana / Anas molodinshi
Georgia
2016, 16 min

Section: Future Frames: Ten New Filmmakers To Follow
Year: 2017
Their mother's death becomes the grim pretext for estranged siblings to reunite. Ana and Niko are having trouble reconnecting, and words just seem to get in the way. Then something seemingly insignificant from the past helps them break down the barrier dividing them, and they remember how it was when each other's presence brought them joy.
Synopsis
Their mother's death becomes the pretext for long-estranged siblings to reconnect. They lead different lives, so much so that they find it hard to communicate. If they could live quietly together in one apartment they might find their way back to each other, but the constant interruption of grieving rituals and mourning relatives makes this impossible. Then something seemingly insignificant breaks down the barrier that divides them. Mukhadze's sensitive and intimate look into a domestic situation uses subtle allusions to navigate family relationships since words alone often fail.
Anna Kořínek
About the director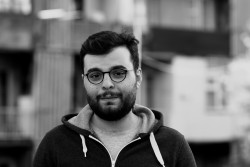 Giorgi Mukhadze (b. Tbilisi, Georgia) graduated in film direction from the Shota Rustaveli Theater and Film Georgia State University. He has worked as director, assistant director, and screenwriter for several production companies. Waiting for Ana (2016) is his graduation film. The short Shabat, which he wrote and directed for Georgia public television, was produced in the same year. He is currently at work on his feature debut.

Contacts
Bear Team Production
6, Impasse Elias Howe, 94100, Saint Maur des Fossés
France
Tel: +33 674 969 940
E-mail: [email protected]

Georgian National Film Center
4, Z. Gamsakhurdia Sanapiro Str., 0105, Tbilisi
Georgia
Tel: +995 322 999 200
Fax: +995 322 999 200
E-mail: [email protected]
www: www.gnfc.ge

Giorgi Mukhadze
E-mail: [email protected]

About the film
Color, DCP
International premiere
| | |
| --- | --- |
| Section: | Future Frames: Ten New Filmmakers To Follow |
| | |
| Director: | Giorgi Mukhadze |
| Screenplay: | Giorgi Mukhadze |
| Dir. of Photography: | Dito Dekanosidze |
| Editor: | Niko Tarielashvili |
| Art Director: | Nato Bagrationi |
| Producer: | Lasha Khalvashi |
| Production: | Artizm |
| Coproduction: | Shota Rustaveli Theater and Film Georgia State University |
| Cast: | Giorgi Giorganashvili, Ana Makashvili |
| Sales: | Bear Team Production |
| Contact: | Georgian National Film Center, Giorgi Mukhadze |
| | |
| www: | http://www.efp-online.com/en/project_talent_promotion/future_frames.php |
Guests
Giorgi Mukhadze
Film Director