United Kingdom / Germany / Spain
2002, 106 min

Section: 30 Years of the European Film Academy
Year: 2017
Adolescent Liam, whose dream of a family and a better life edges him towards a downward spiral of crime, is the extreme version of the majority of Loach's heroes – the vehicle through which he points to the malignant consequences of poverty and society's indifference to the socially deprived. Paul Laverty, the director's regular scripter since his collaboration on the film, won Best Screenplay at Cannes in 2002.
Synopsis
Teenage Liam lives in the industrial hub of Glasgow and he can't wait for his birthday to arrive, when his mother is due for release from prison. She's serving time for pushing drugs, a crime actually committed by her dealer boyfriend. Despite Liam's best intentions, in his efforts to make some fast money so he and his mum can start a new life, he gets into bad ways himself. It doesn't take him long to realise that he's even capable of killing his mate if that's what his drug boss wants. An increasingly more sinister chasm opens up beneath his feet and, instead of fulfilling his dream of an idyllic home, his ultimate destiny is to plunge to the very depths. Here the director reinforces his lasting interest in the destinies of people from deprived social backgrounds who wrestle with poverty and seek a way out through a life of crime. The spontaneous performance of a nonprofessional actor in the lead role lends the film a good dose of authenticity and helped it win a string of important awards.

Zdena Škapová
About the director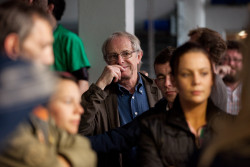 Ken Loach (b. 1936, Nuneaton, UK), even back in the early days of Kes (1969; KVIFF Crystal Globe in 1970), appeared to audiences as a perceptive observer of social differences. In his ethical stance and poetic vision he harks back to the voices of the "angry young men"; he is sympathetic towards outsiders largely from working-class backgrounds who, in different ways and often unsuccessfully, try to escape their bleak social destiny. He is well able accurately to portray characters and situations as specific types (Land and Freedom, 1995; I, Daniel Blake, 2016), and in his best work he proves himself a master of psychological depiction (My Name Is Joe, 1998) and a director with a sense of humour (Looking for Eric, 2009; The Angels' Share, 2012). Loach's films have garnered many of the highest awards at festivals in Cannes, Venice and Berlin, and at Britain's BAFTAs. Sweet Sixteen won the EFA's FIPRESCI Prize in 2002.

About the film
Color, 35 mm

| | |
| --- | --- |
| Section: | 30 Years of the European Film Academy |
| | |
| Director: | Ken Loach |
| Screenplay: | Paul Laverty |
| Dir. of Photography: | Barry Ackroyd |
| Music: | George Fenton |
| Editor: | Jonathan Morris |
| Art Director: | Fergus Clegg, Martin Johnson |
| Producer: | Rebecca O'Brien |
| Production: | Sixteen Films, Road Movies Filmproduktion, Alta Films, Tomasol Films |
| Cast: | Martin Compston, Williame Ruane, Annmarie Fulton, Michelle Abercromby |
Guests
Ken Loach
Paul Laverty
Screenwriter