Archive of films

All the President's Men / All the President's Men
A dramatic recapitulation of the Watergate scandal, which culminated in the resignation of President Richard Nixon. Washington Post reporters Robert Woodward and Carl Bernstein came to typify modern investigative journalism. Alan J. Pakula's drama, authentically recreating the feel of the news world, took four Oscars.

Synopsis
A reconstruction of the Watergate affair, which began in 1972 and culminated in the 1974 resignation of President Richard Nixon. Washington Post reporters Robert Woodward and Carl Bernstein were involved in uncovering a scandal involving secret funds and the discrediting of political rivals. This documentary-like drama, starring the popular Robert Redford and Dustin Hoffman, treats journalistic courage, patience and conscientiousness. The reporters weave their exposé from dozens of facts and statements. They come up against uncooperative witnesses, their own fear of the possible ramifications, and even pressure from the highest echelons. Woodward uses a secret government informer (Hal Halbrook) that he meets in underground garages. Another important player in the story is editor-in-chief Bradlee (Jason Robards won an Oscar for his supporting role), who supports the two journalists and faces down political intimidation. The authentic feel of the newsroom sequences aids this cinematic depiction of a key period in modern American history. It is an example of imaginative work with the suspense genre that manages to do without standard chase scenes, shootouts or superheroes.
About the director

Alan J. Pakula (1928-1998) graduated in dramatic arts from Yale University. He started his film career at Warner Brothers, then at the beginning of the fifties he became an assistant producer at Paramount. He eventually worked his way up to producer, and he and director Robert Mulligan founded their own production company. Together they created the popular and critical favourite To Kill a Mockingbird based on Harper Lee?s Pulitzer Prize-winning novel. His directorial debut came with The Sterile Cuckoo (1969). The thriller Klute (1971) launched a free-floating series of films connected by their critical portrayal of the interconnection between the spheres of power and crime. The peak point of Pakula?s film work proved to be Sophie?s Choice (1982), an adaptation of William Styron?s novel of growing up and nightmarish Nazi trauma. Other well-known titles include the thriller Presumed Innocent (1990) with Harrison Ford and The Pelican Brief (1993) with Julia Roberts. In The Devil?s Own (1997) he pitted an IRA gunman against a fair-minded New York cop.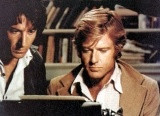 About the film
Color, 35 mm

| | |
| --- | --- |
| Section: | Tribute to Robert Redford |
| | |
| Director: | Alan J. Pakula |
| Screenplay: | William Goldman (podle románu/based on the book by Carl Bernstein and Bob Woodward |
| Dir. of Photography: | Gordon Willis |
| Music: | David Shire |
| Editor: | Robert L. Wolfe |
| Producer: | Walter Coblenz |
| Production: | Warner Bros |
| Cast: | Dustin Hoffman, Robert Redford, Jack Warden, Martin Balsam, Hal Holbrook, Jason Robards |
| Contact: | Hollywood Classics, Warner Bros |