Czech Republic / Slovak Republic
2018, 97 min

Section: Czech Films 2017–2018
Year: 2018
Can the creative process be more important than the work itself? Director Jan Švankmajer follows a troupe of nonprofessional actors rehearsing for a theatre performance in a small town while, at the same time, inviting the viewer onto the stage as well, where surrealism's legacy is interwoven with the magic of human dreams, and where most of the questions that arise don't have rational answers.
Synopsis
A troupe of amateur actors rehearsing the second act of the Čapek brothers' satire The Insect Play at a local pub prompted legendary filmmaker Jan Švankmajer to contemplate man's never-ending plod through life and to also consider the creative process itself. Right at the outset the movie's creator tells his audience that he wrote the script without any rational or moral restraint, and in the course of the film he breaks the fourth wall several times in order to show us fragments of the work in progress. "Forget what you learned at drama school; the more embarrassing it is, the better it'll be," the actors are instructed by the director, who turned to crowdfunding for what is ostensibly his last film. The result is a unique piece in which the power of imagination pervades surrealism's legacy.

Jan Škoda
About the director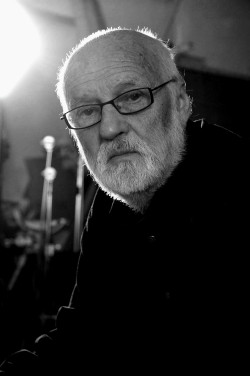 Jan Švankmajer (b. 1934, Prague). Selected filmography: The Last Trick (1964), Alice (1987), Faust (1994), Conspirators of Pleasure (1996), Little Otik (2000), Lunacy (2005), Surviving Life (2010), Insect (2018)

Contacts
CinemArt, a.s.
Národní 60/28, 111 21, Praha 1
Czech Republic
Tel: +420 224 949 110
E-mail: [email protected]
www: www.cinemart.cz

ATHANOR – společnost pro filmovou tvorbu, s.r.o.
U 5. baterie 21, 162 00, Praha 6
Czech Republic
Tel: +420 233 322 905
Fax: +420 224 313 383
E-mail: [email protected]
www: www.athanor.cz

About the film
Color, DCP

| | |
| --- | --- |
| Section: | Czech Films 2017–2018 |
| | |
| Director: | Jan Švankmajer |
| Screenplay: | Jan Švankmajer |
| Music: | Bedřich Smetana, Nikolaj Rimski-Korsakov, Petr Iljič Čajkovskij |
| Editor: | Jan Daňhel |
| Art Director: | Jan Švankmajer, Václav Švankmajer, Veronika Hrubá |
| Producer: | Jaromír Kallista |
| Production: | ATHANOR |
| Coproduction: | PubRes s.r.o, Česká televize |
| Cast: | Jaromír Dulava, Kamila Magálová, Norbert Lichý, Ivana Uhlířová, Jiří Lábus, Jan Budař, Pavel Nový |
| Contact: | ATHANOR – společnost pro filmovou tvorbu, s.r.o. |
| Distributor: | CinemArt, a.s. |
Guests
Jaromír Kallista
Producer
Adam Oľha
Film Director, Director of Photography
Jan Růžička
Director of Photography
Jiří Lábus
Actor
Helena Uldrichová
Other