Slovak Republic / Czech Republic / Austria
2018, 113 min

Section: Czech Films 2017–2018
Year: 2018
Who suffers more, the son of the victim or the son of the murderer? Presented at the Berlinale, Martin Šulík's coproduction drama follows a journey taken by two dissimilar men who are bound together by the tragedy of the Holocaust. Starring Jiří Menzel and Peter Simonischek, a familiar face from the successful Toni Erdmann.
Synopsis
An 80-year-old Slovak man named Ali (Jiří Menzel) heads to Vienna to see the former SS officer responsible for his parents' death. Instead of the perpetrator, however, he only finds his 70-year-old son Georg (Peter Simonischek), who disavowed his father's past long ago. Opposites attract for some reason, and Ali intrigues Georg, so the pair set off on a trip through Slovakia in order to shed light on the wartime tragedy. Yet an unavoidable settling of accounts ferments beneath the veneer of comic discord between ascetic Ali and bon vivant Georg: The darkness of the past can never entirely fade away. In an era of dangerous revisionism surrounding the events of the Second World War, the filmmakers emphasize the healing effects of dialogue between individuals and nations.

Jan Škoda
About the director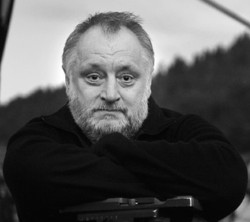 Martin Šulík (b. 1962, Žilina, Czechoslovakia). Selected filmography: Tenderness (1991), Everything I Like (1992), The Garden (1995), Orbis Pictus (1997), Landscape (2000), The City of the Sun (2005), Gypsy (2011), Slovakia 2.0 (2014)
About the film
Color, DCP

| | |
| --- | --- |
| Section: | Czech Films 2017–2018 |
| | |
| Director: | Martin Šulík |
| Screenplay: | Marek Leščák, Martin Šulík |
| Dir. of Photography: | Martin Štrba |
| Music: | Vladimír Godár |
| Editor: | Olina Kaufmanová |
| Producer: | Rudolf Biermann, Martin Šulík, Bruno Wagner |
| Production: | In Film Praha s.r.o. |
| Coproduction: | RTVS – Rozhlas a televízia Slovenska, Česká televize |
| Cast: | Jiří Menzel, Peter Simonischek, Zuzana Mauréry |
| Sales: | Celluloid Dreams |
| Distributor: | AQS a.s. |
Guests
Rudolf Biermann
Producer
Olina Kaufmanová
Film Editor, Producer
Helena Uldrichová
Other