Bosnia and Herzegovina
2017, 38 min

Section: Future Frames: Ten New Filmmakers To Follow
Year: 2018
Fudo is a drug addict, but after his best friend overdoses he is determined to stay clean. He's confident that, this time, it'll definitely work out. With no money and no dignity, he begins the first day of his new life. An optimistically realistic film which reminds us that junkies deserve hope too.

Synopsis
When Fudo's best friend dies of an overdose, he decides to get clean and stop merely surviving from one fix to the next. But how is he supposed to go about it when his dependence cost him absolutely everything? His resolve is unwavering, his goal uncertain. After all, this isn't the first time he has tried to kick drugs… Neven Samardžić doesn't embellish his hero, he simply reminds us that junkies deserve hope as well.
Anna Kořínek
About the director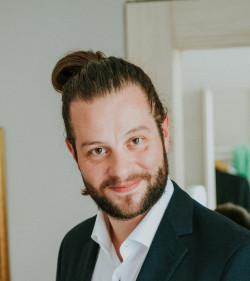 Neven Samardžić (b. 1986, Sarajevo). 15 000 (2016, short), We're All Nedžad, (2014, short), Strong (2013, short doc.)

Contacts
Association of Filmmakers of Bosnia & Herzegovina
Branilaca Sarajeva 20 / III, 71000, Sarajevo
Bosnia and Herzegovina
Tel: + 387 33 667 452
E-mail: [email protected]
www: www.bhfilm.ba

About the film
Color, DCP

| | |
| --- | --- |
| Section: | Future Frames: Ten New Filmmakers To Follow |
| | |
| Director: | Neven Samardžić |
| Screenplay: | Neven Samardžić |
| Dir. of Photography: | Amel Ðikoli |
| Editor: | Saša Peševski |
| Production: | Sarajevo Academy of Performing Arts / Refresh production |
| Cast: | Nerman Mahmutović, Mirela Lambić |
| Contact: | Association of Filmmakers of Bosnia & Herzegovina |
Guests
Neven Samardžić
Film Director