Czech Republic
1994, 102 min

Section: Out of the Past
Year: 2018
In this unusual action sci-fi comedy a secret parallel reality exists behind the television screen – some sort of world "behind the mirror" filled with corresponding images of us that siphon off our strength. Sheepish outsider Olda is going to have to battle his vigorously demanding double – with the remote slung pretty damn low around his waist. World premiere of the remastered version.
Synopsis
In the Czech environment, the 1990s were more likely to favour fantasy themes in literature than elsewhere. It's no surprise then that Jan Svěrák's science fiction movie was a rather isolated event in post-revolution cinema, and thus the picture had all the more impact on genre-starved audiences of the time. The story of exhausted Olda – who battles a parallel world behind his television screen as it attempts to siphon off his energy – represented the then apex of local special-effects technology, but it is also a stellar parody of popular Hollywood blockbusters. Olda's unequal fight against the beguiling TV machinery has proven to be one of the most imaginative tales in which people try to escape from a trap that they themselves devised. World premiere of the remastered version.

Nikola Paggio
About the director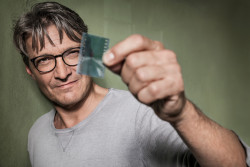 Jan Svěrák (b. 1965, Žatec, Czechoslovakia). Selected filmography: Elementary School (1991), The Ride (1994), Accumulator 1 (1994), Kolya (1996), Dark Blue World (2001), Daddy (2004), Empties (2007), Kooky (2010), Three Brothers (2014), Barefoot (2017)
About the film
Color, DCP

| | |
| --- | --- |
| Section: | Out of the Past |
| | |
| Director: | Jan Svěrák |
| Screenplay: | Jan Slovák, Jan Svěrák, Zdeněk Svěrák |
| Dir. of Photography: | F. A. Brabec |
| Music: | Ondřej Soukup, Jiří Svoboda |
| Editor: | Alois Fišárek |
| Art Director: | Miloš J. Kohout |
| Production: | Heureka Film |
| Coproduction: | Luxor |
| Cast: | Petr Forman, Zdeněk Svěrák, Edita Brychta, Boleslav Polívka, Jiří Kodet, Ladislav Smoljak, Marian Labuda |
| Sales: | Biograf Jan Svěrák s.r.o. |
| Distributor: | Magic Box - division Bioscop |
| | |
| www: | www.sverak.cz |
Guests
Jan Svěrák
Film Director / Producer