Germany / Ukraine / France / Netherlands / Romania
2018, 121 min

Section: Another View
Year: 2018
Poignant fragments of the spectral existence of an eastern Ukrainian republic straddling the border between law and injustice, fantasy and reality, dreams and nightmares. The artistically treated documentary material provides disturbing evidence of the intense bifurcation of fact and fiction in today's pseudo-reality of media images.
Synopsis
Soon after Maidan came the Donbass, and the stirring of solidarity and civil consciousness gave rise to hatred and a devastating fratricidal war. This joyless image of a world robbed of morality, conscience, and taste is conveyed to us as a restaging of YouTube videos uploaded by people who were present during the rampages in eastern Ukraine. This episodic story presents the revolutionary and the unexceptional, the ceremonial and the degrading, and both cheerful and dispiriting moments of Donbass life, reminiscent of a crude spectacle in which the majority of the cast appear as puppets or extras. Acknowledging the ambivalence of his take on the rebirth of the region's tragedy as farce, Sergei Loznitsa unmasks the universal mechanisms underlying the shared transformations of fact and fiction.

Kamila Dolotina
About the director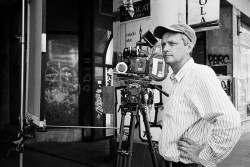 Sergei Loznitsa (b. 1964, Baranovichi, Byelorussian SSR). Selected filmography: The Train Stop (Polustanok, 2000, doc.), Factory (Fabrika, 2004, doc.), Blockade (Blokada, 2005, doc.), My Joy (Schastye moyo, 2010), In the Fog (V tumane, 2012), Maidan (2014, doc.), Austerlitz (2016, doc.), A Gentle Creature (Krotkaya, 2017), Victory Day (Den' Pobedy, 2018)

About the film
Color, DCP

| | |
| --- | --- |
| Section: | Another View |
| | |
| Director: | Sergei Loznitsa |
| Screenplay: | Sergei Loznitsa |
| Dir. of Photography: | Oleg Mutu |
| Editor: | Danielius Kokanauskis |
| Art Director: | Kirill Shuvalov |
| Producer: | Heino Deckert |
| Production: | ma.ja.de.fiction, Arthouse Traffic, JBA Production, Graniet Film, Wild at Art, Digital Cube |
| Cast: | Boris Kamorzin, Valeriu Andriuță, Tamara Yatsenko, Lyudmila Smorodina, Olesya Zhurakovskaya |
| Sales: | Pyramide International |
Guests
Sergei Loznitsa
Film Director