Tunisia / Belgium / France / Qatar
2018, 100 min

Section: Horizons
Year: 2018
An elderly couple's central focus in life is their son Sami, who is studying for his high school finals. Sami often suffers from migraines and depression, something his father takes especially hard. But one day Sami disappears… A story of parental love and the thin line between care and dependence.
Synopsis
A film about parental love and responsibility that doesn't fade even when the kids are all grown up. Because of stress from his upcoming final exams and his uncertain future, Sami suffers from unexpected but intense migraines. But his father Riadh seems to be suffering even more: he wants the best for his son, and so his shock is all the greater when he discovers that Sami has disappeared without a trace… In his second feature film, director Mohamed Ben Attia – winner of the Silver Bear for Best Debut at the 2016 Berlinale – confirms his status as a filmmaker who captures seemingly ordinary life stories with an uncommon emotional impact.

Anna Kořínek
About the director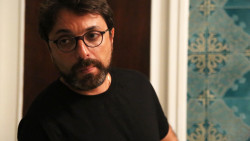 Mohamed Ben Attia (b. 1976, Tunisia). Selected filmography: Selma (2014, short), Hedi (Inhebbek Hedi, 2016), Dear Son (Weldi, 2018)
About the film
Color, DCP

| | |
| --- | --- |
| Section: | Horizons |
| | |
| Director: | Mohamed Ben Attia |
| Screenplay: | Mohamed Ben Attia |
| Dir. of Photography: | Frédéric Noirhomme |
| Music: | Omar Aloulou |
| Editor: | Nadia Ben Rachid |
| Art Director: | Fatma Madani |
| Producer: | Dora Bouchoucha, Luc and Jean-Pierre Dardenne, Nadim Cheikhrouha |
| Production: | Nomadis Images, Les Films du Fleuve, Tanit Films |
| Cast: | Mohamed Dhrif, Mouna Mejri, Zakaria Ben Ayed, Imen Cherif, Taylan Mintas, Tarik Copty |
| Sales: | LUXBOX |
Guests
Mohamed Ben Attia
Film Director