Archive of films

Koko-di Koko-da / Koko-di koko-da
Elin and her husband Tobias's camping trip becomes a nightmare when they are terrorized by a trio of right shady characters who suddenly emerge from the depths of the forest. What is it like to be stuck in a horrible dream? And even worse, to have to relive it over and over again? Believe it: the song that lent its name to this perversely humorous picture will be stuck in your head for a long time.
Synopsis
Elin and Tobias's marriage isn't what it used to be, and so they try to fix things by spending time together outdoors. But after they are unexpectedly visited by a trio of twisted characters, they find themselves caught in a cycle of horrific events that blurs the line separating reality from the most terrifying dreams imaginable. Johannes Nyholm's horror tale pulls audiences into the depths of an absurdly sadistic world where two people are forced to face agonizing sorrow and pure evil in equal measure. Through a combination of live action and animation, a dark, perversely humorous movie emerges that allows viewers to experience what it's like to find oneself trapped in an inexplicable loop of fate.

Sandra Hezinová
About the director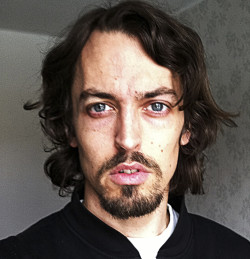 Johannes Nyholm (b. 1987, Denmark). Filmography: The Tale of Little Puppetboy (Sagan om den lille Dockpojken, 2008, short), Puppetboy (Dockpojken, 2008, short), Dreams from the Woods (Drömmar från skogen, 2009, short), Las Palmas (2011, short), The Giant (Jätten, 2016), Koko-di Koko-da (2018)
Contacts
Stray Dogs
6 rue du 8 mai 1945, 75010, Paris
France
Tel: +33 (0)1 42 41 31 80
E-mail: [email protected]

Swedish Film Institute
Box 27126, S-102 52, Stockholm
Sweden
Tel: +46 866 511 00
Fax: +46 866 118 20
E-mail: [email protected]
www: www.sfi.se

About the film
Color, DCP

| | |
| --- | --- |
| Section: | Another View |
| | |
| Director: | Johannes Nyholm |
| Screenplay: | Johannes Nyholm |
| Dir. of Photography: | Johan Lundborg, Tobias Höiem-Flyckt |
| Music: | Simon Ohlsson, Olof Cornéer |
| Editor: | Johannes Nyholm |
| Producer: | Johannes Nyholm |
| Production: | Johannes Nyholm Produktion AB |
| Coproduction: | Beofilm |
| Cast: | Leif Edlund, Ylva Gallon, Peter Belli |
| Sales: | Stray Dogs |
| Contact: | Swedish Film Institute |