USA / United Kingdom
1979, 117 min

Section: Midnight Screenings
Year: 2019
The crew of an interstellar cargo ship are on their way back to Earth when the onboard computer prematurely awakens them from hibernation. The passengers discover that the ship has intercepted a distant signal. After landing on a barren planet they find a wrecked spaceship, and on it a hatchery filled with strange eggs. The immortal sci-fi saga begins.
Synopsis
Even forty years after its release, this brilliant collaboration between screenwriter Dan O'Bannon, biomechanical surrealist H. R. Giger and visionary director Ridley Scott remains just as stunning as in 1979, when it redefined the science-fiction genre. The creature, who arrives out of the depths of space, is no civilized extraterrestrial seeking to make contact with the human race; it is the embodiment of pure evil, as intelligent as it is remorseless. This visually captivating film works with our primal fear of the unknown and unseen amid the claustrophobic corridors of the spaceship Nostromo, where the mismatched crew must engage in an unequal struggle for survival – a struggle nobody will ever know about. Because in space, no one can hear you scream.
Nikola Paggio
About the director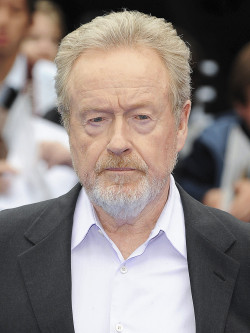 Ridley Scott (b. 1937, South Shields, United Kingdom). Selected filmography: The Duellists (1977), Alien (1979), Blade Runner (1982), Thelma & Louise (1991), Gladiator (2000), Hannibal (2001), American Gangster (2007), Prometheus (2012), The Martian (2015), Alien: Covenant (2017)
About the film
Color, DCP

| | |
| --- | --- |
| Section: | Midnight Screenings |
| | |
| Director: | Ridley Scott |
| Screenplay: | Dan O'Bannon, Ronald Shusett |
| Dir. of Photography: | Derek Vanlint |
| Music: | Jerry Goldsmith |
| Editor: | Terry Rawlings, Peter Weatherley |
| Art Director: | Roger Christian, Leslie Dilley |
| Producer: | Gordon Carroll, David Giler, Walter Hill |
| Production: | Twentieth Century-Fox Productions, Brandywine Productions |
| Cast: | Sigourney Weaver, Tom Skerritt, Harry Dean Stanton, John Hurt |
| Sales: | Park Circus Group |