In October 2002 around nine hundred people were taken hostage by terrorists as they were watching a musical. Seventeen years later Natasha, a nun, attempts to organise a memorial evening in that same Moscow theatre, which would help her and other survivors overcome their enduring trauma. A conceptual psychological drama about repressed memory that subtly interweaves documentary events with their fictional depiction.
Synopsis
A terrorist attack on the Dubrovka theatre led to the death of around 130 civilians. Those who survived carry the trauma within them to this day. Like Natasha, who took the veil immediately after the tragedy and now returns with other survivors to summon up those four terrifying days as part of her reminiscence therapy. Her motives may be noble yet they ultimately bring to light the sombre narrative of her own guilt. 32-year-old Ivan Tverdovskiy is the first to break an unspoken taboo in his adaptation of this tragic event. Contemplating the very essence of fear he revisits one of the most painful episodes in modern Russian history. Instead of submitting an action spectacle, he confronts the true stories of people who were there with the bleak reality of widespread indifference and memory denial.

Kamila Dolotina
About the director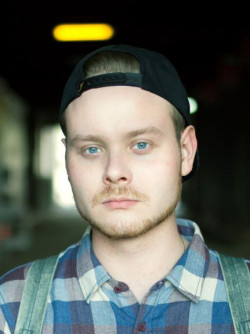 Ivan I. Tverdovskiy (1988, Moscow). Filmography: As If Waiting for a Bus (Slovno zhdu avtobusa, 2009, short doc.), Pianism (Pianizm, 2012), Space Dog (Sobachiy kaif, 2013, short doc.), Corrections Class (Klass korrektsii, 2013), Zoology (Zoologiya, 2016), Jumpman (Podbrosy, 2018), Conference (Konferentsiya, 2020).

Contacts
REASON8 Films
19-21 Crawford Street, Suite 482, W1H 1PQ, London
United Kingdom
E-mail: [email protected]

About the film
Color, DCP

| | |
| --- | --- |
| Section: | Horizons |
| | |
| Director: | Ivan I. Tverdovskiy |
| Screenplay: | Ivan I. Tverdovskiy |
| Dir. of Photography: | Fedor Glazachev |
| Music: | Sten Sheripov |
| Editor: | Ivan I. Tverdovskiy |
| Art Director: | Vanya Bouden |
| Producer: | Katerina Mikhaylova |
| Production: | Vega Film |
| Coproduction: | Ark Pictures, Nafta, REASON8 Films, Revolver Film |
| Cast: | Natalya Pavlenkova, Kseniya Zueva, Olga Lapshina |
| Sales: | REASON8 Films |