Archive of films

Roadrunner: A Film About Anthony Bourdain / Roadrunner: A Film About Anthony Bourdain
A portrait of American chef, author, and television moderator Anthony Bourdain, whose travel show was watched by just about everyone. Whether he was exploring the culinary arts of Rome, Melbourne, Kinshasa, or Beirut, Bourdain's distinctive style allowed people all over the world to discover the endlessly diverse flavors of local cultures and cuisines.
Synopsis
Anthony Bourdain was not only an internationally known television host who forever changed the rules of culinary and travelogue television, he was also a successful writer and producer. His approach to people and their customs did not fit the traditional image of a snobbish master chef, and he was always looking for new and unusual experiences, often pushing his own limits and those of his crew. An unknown chef working in out-of-the-way New York restaurants thus became an international star who, at the peak of his fame, retreated into family life. But his lifelong searching was also a curse, since he didn't want to (nor could he) live a "mere" ordinary life. A documentary about a man who didn't know how to stand still.
Nikola Paggio
About the director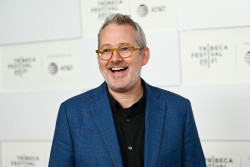 Morgan Neville (1967, Los Angeles). Selected filmography: 20 Feet from Stardom (2013, doc.), Best of Enemies (2015, doc.), They'll Love Me When I'm Dead (2018, Netflix orig. doc.), Won't You Be My Neighbor? (2018, doc.), Roadrunner: A Film About Anthony Bourdain (2021).

Contacts
Focus Features
100 Universal City Plaza, CA 91608, Los Angeles
United States of America
Tel: +1 818 777 1000
Fax: +1 212 539 4099
E-mail: [email protected]

CinemArt, a.s.
Národní 60/28, 111 21, Praha 1
Czech Republic
Tel: +420 224 949 110
E-mail: [email protected]
www: www.cinemart.cz

About the film
Color, DCP

| | |
| --- | --- |
| Section: | Horizons |
| | |
| Director: | Morgan Neville |
| Dir. of Photography: | Adam Beckman |
| Music: | Michael Andrews, Sarah Lipstate |
| Editor: | Eileen Meyer, Aaron Wickenden |
| Producer: | Morgan Neville, Caitrin Rogers |
| Production: | CNN Films |
| Coproduction: | HBO Max, Tremolo Productions |
| Sales: | Focus Features |
| Distributor: | CinemArt, a.s. |