Film

Shoky & Morthy: Last Big Thing / Shoky & Morthy: Poslední velká akce

Add to your ''My films'' list
Czech Republic
2021, 99 min

Section: Midnight Screenings
| | | | | |
| --- | --- | --- | --- | --- |
| | 329 | Sunday | 22/8 23:59 | Small Hall |
| | 529 | Tuesday | 24/8 23:59 | Small Hall |
| | 7C8 | Thursday | 26/8 23:59 | Čas Cinema |
| | 929 | Saturday | 28/8 23:59 | Small Hall |
Shoky and Morthy are best friends and successful YouTubers, but their fame is slowly beginning to fade. While Morthy would like to quit, Shoky comes up with ideas for making their videos more interesting… and bloodier. In the end, they set out for one "last big thing" that will save their YouTube channel and their disintegrating friendship.
Synopsis
YouTubers Shoky and Morthy's cynical pranks have made them so famous that they've become professionals who earn decent money from their fans. But one day they go too far, their channel is demonetized, and they both end up having to do community service work. Their only hope for a comeback is to set out for the dark forest at a place known as the Nine Crosses, where they plan to reveal on camera the mystery of the Bloody Bride, whose spirit causes accidents on a nearby road. Joined by Lucie, a mysterious ghost hunter, and the failed YouTuber (and vacuum salesman) Radomil, they set out on a journey that will test their determination with new and unexpected obstacles. But as the Czech classic goes, after a hard day's night we'll feel alright…
Nikola Paggio
About the director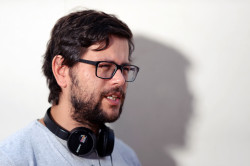 Andy Fehu (1986, Polička, Czechoslovakia). Selected filmography: Blind Track (2005, short), Andy's Film (2009), Sea Urchin (2011), The Greedy Tiffany (2015), Monte Carlo Used Car Dealership (2016, internet TV series), Growroom (2017, internet TV series), Shoky & Morthy: The Last Big Thing (2021).
About the film
Color, DCP

| | |
| --- | --- |
| Section: | Midnight Screenings |
| | |
| Director: | Andy Fehu |
| Screenplay: | Andy Fehu, Ondřej Kopřiva |
| Dir. of Photography: | Jakub Ševčík |
| Music: | Mojmír Měchura |
| Editor: | Ondřej Pavliš |
| Art Director: | Ondřej Lipenský |
| Producer: | Vratislav Šlajer, Jakub Košťál, Jakub Ševčík, Andy Fehu |
| Production: | Bionaut, Snake Catcher |
| Cast: | Jakub Štáfek, Štěpán Kozub, Martina Babišová, Andrea Daňková, Tomáš Magnusek |
| Contact: | Bionaut |
| Distributor: | Falcon a.s. |
Guests
Andy Fehu
Film Director
Vratislav Šlajer
Producer
Olga Benešová
Film Crew
Jakub Ševčík
Director of Photography