Czech Republic
2022, 90 min

Section: Special Screenings
Year: 2022
An actor called Šnajdr is given an opportunity to make his debut as a director. He doesn't think twice about leaving Prague and dashing off to Olomouc, where he is met by the grumpy director of the town's cultural centre and his eccentric grandma, who is to be the star of his production and who's perfectly attuned to his sense of humour and mystification… A bittersweet comedy directed by Miroslav Krobot and starring Pavel Šimčík and Iva Janžurová.

Synopsis
Actor Pavel Šnajdr eagerly accepts an opportunity to direct his first film. He's not bothered that he has to leave Prague and head for Olomouc in order to do this. Quite the reverse. Things aren't going very well in his marriage and in Olomouc he gets to live with his eccentric grandma, who shares his distinctive sense of humour and mystification and is thus the ideal partner for him in a piece of improvised performance. However, the preparations for the premiere don't go exactly according to plan. Grandma doesn't like being bossed around on stage and the director of the cultural centre has a completely different artistic vision from that of Šnajdr. Pavel Šimčík, Iva Janžurová and Iva Pazderková are outstanding as the leads in Miroslav Krobot's bittersweet comedy.

Anna Kořínek
About the director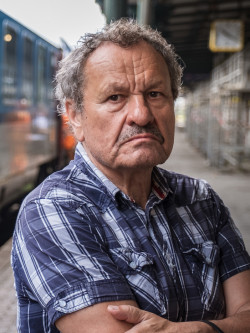 Miroslav Krobot (1951, Šumperk, Czechoslovakia). Filmography: Nowhere in Moravia (2014), The Quartette (2017), Big Opening (2022).

About the film
Color, DCP
World premiere
| | |
| --- | --- |
| Section: | Special Screenings |
| | |
| Director: | Miroslav Krobot |
| Screenplay: | Miroslav Krobot, Lubomír Smékal |
| Dir. of Photography: | Martin Štrba |
| Music: | Martin Hůla |
| Sound: | Dušan Kozák |
| Editor: | Jarosław Kamiński |
| Art Director: | Jan Vlček |
| Producer: | Silvie Michajlova, Ondřej Zima |
| Production: | Evolution Films |
| Coproduction: | Česká televize |
| Cast: | Pavel Šimčík, Iva Janžurová, Iva Pazderková, Miroslav Krobot, Klára Melíšková, Ivana Plíhalová, Jenovéfa Boková, Roman Vencl, Jakub Žáček, Hana Doulová |
| Contact: | Evolution Films |
| Distributor: | Falcon a.s. |
Guests
Miroslav Krobot
Actor, Film Director
Pavel Šimčík
Actor
Iva Janžurová
Actress
Klára Melíšková
Actress
Jenovéfa Boková
Actress
Iva Pazderková
Actress
Jakub Žáček
Actor
Ivana Plíhalová
Actress
Ondřej Zima
Producer
Silvie Michajlova
Producer
Jaroslav Sedláček
Co-producer
Lubomír Smékal
Screenwriter
Dušan Kozák
Sound Designer
Jan Vlček
Set Designer
Pavlína Muzikářová
Production
Barbora Dlabajová
Production Manager