Intellectually challenging films became established in the 1960s and it certainly wasn't only Godard for whom the adventure story no longer sufficed; it was the adventure of reflection that mattered. Jireš's The Joke is an example of this cinematic endeavour: if it weren't for the viewer continually deliberating the impulses that prompt the hero's associative chain of memories, and asking why fragments of past and present situations are seamlessly blended together, many of the film's important connections would never come to light.
Synopsis
The novel The Joke (1967), whose story treads a fine line between the tragic and the grotesque, is to this day a masterpiece of Czech prose examining weighty socio-critical and existential subject matter. This also applies to its cinematic adaptation of the same name: here the director employs a series of associative edits, pervasive shot compositions and resourceful counterpoints of image and sound which together achieve a similar effect to that attained by Milan Kundera in his use of modernist narrative approaches. Crowded out by the protagonist's persistent memories, the present-time action is increasingly supplanted by scenes from the past when he, Ludvík Jahn, was a victim of the grim Stalinist regime. His deformed life holds up a mirror to the countless destinies of unjustly persecuted individuals.
Zdena Škapová
About the director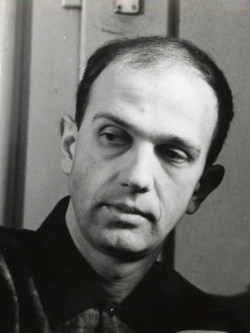 Jaromil Jireš (1935, Bratislava - 2001, Prague). Selected filmography: The Cry (1963), Citizen Karel Havlíček (1966, short doc.), The Joke (1968), Court of Justice (1969, short doc.), Valerie and Her Week of Wonders (1970), The Young Man and Moby Dick (1978), Extended Time (1984), Lion with a White Mane (1986), Helimadoe (1992), The Dance Teacher (1994).
About the film
Black & white, DCP

| | |
| --- | --- |
| Section: | Out of the Past |
| | |
| Director: | Jaromil Jireš |
| Screenplay: | Milan Kundera, Jaromil Jireš podle stejnojmenného románu / based on the novel of the same name by Milan Kundera |
| Dir. of Photography: | Jan Čuřík |
| Music: | Zdeněk Pololáník |
| Sound: | Adam Kajzar |
| Editor: | Josef Valušiak |
| Art Director: | Ladislav Fikar, Bohumil Šmída |
| Production: | Filmové studio Barrandov |
| Cast: | Josef Somr, Jana Dítětová, Luděk Munzar, Jaroslava Obermaierová, Evald Schorm, Milan Svrčina, Miloš Rejchrt, Věra Křesadlová, Jaromír Hanzlík |
| Sales: | Národní filmový archiv |