Ukraine / Turkey
2022, 100 min

Section: Horizons
Year: 2022
Irka and Tolik live in eastern Ukraine near the Russian border. It is July 2014, and they continue to hope that the thing which is slowly eating away at their house and their souls – and into which their child will soon be born – is not war. This portrait of people who lose the right to make any decisions about their lives has only grown in urgency since its triumphant premiere at Sundance.

Synopsis
In July 2014, many people still believed that the situation in the Donbas would soon calm down again. Irka, who is expecting a child, also stubbornly refuses to abandon her home, but she has no idea that her decision to defend her right to stay will come at great cost. Emotionally torn between her passively pro-Russian husband and her actively anti-separatist brother, she doesn't begin to understand the laws of war until it is too late. The mastery with which Maryna Er Gorbach filmed her evocative drama based on true events was confirmed by a Best Director award at the Sundance festival. The filmmaker presents the story of a mother responsible for a future life through carefully composed shots in which each frame evokes the destructive force of war.
Kamila Dolotina
About the director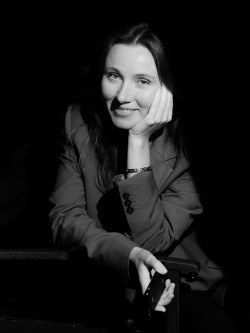 Maryna Er Gorbach (1981, Kyiv, Ukraine). Filmography: With her husband Mehmet Bahadir Er she co-directed the feature films Black Dogs Barking (Kara Köpekler Havlarken, 2009), No Ofsayt (2009), Love Me (Sev beni, 2013), Omar and Us (2019).

Contacts
ArtHood Entertainment GmbH
Quedlinburger Strasse 11, 10589, Berlin
Germany
Tel: +49 302 556 1165
E-mail: [email protected]

About the film
Color, DCP

| | |
| --- | --- |
| Section: | Horizons |
| | |
| Director: | Maryna Er Gorbach |
| Screenplay: | Maryna Er Gorbach |
| Dir. of Photography: | Sviatoslav Bulakovskyi |
| Music: | Zviad Mgebry |
| Sound: | Srdjan Kurpjel |
| Editor: | Maryna Er Gorbach |
| Art Director: | Marketa Korinkova-Taplin |
| Producer: | Maryna Er Gorbach, Mehmet Bahadir Er, Sviatoslav Bulakovskyi |
| Production: | KEDR FILM, Protim V.P. |
| Cast: | Oxana Cherkashyna, Sergiy Shadrin, Oleg Scherbina, Oleg Shevchuk, Artur Aramyan, Evgenij Efremov |
| Sales: | ArtHood Entertainment GmbH |
Guests
Maryna Er Gorbach
Film Director