Tribute to Jan Svěrák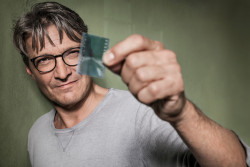 Tribute to Jan Svěrák
Even if he has gone a bit grey, Jan Svěrák still looks as boyish as he did in the press photos that accompanied news of his first extraordinary success as writer-director of the short college film Oilgobblers (1988), which earned him a student Oscar. Although he studied documentary film at FAMU, in submitting this ingenious cinematic mystification, he was already showing an inclination for fiction and stylisation, which would soon be his chosen métier. He secured an Academy Award nomination for his feature debut Elementary School (1991) when he was twenty-six, and he was thirty-one when he received this prestigious accolade for his comedy drama Kolya (1996). Add to these an impressive array of Czech Lion awards and other distinctions, which were also bestowed upon some of his regular crew members, among them, cameramen Vladimír Smutný and F. A. Brabec, film editor Alois Fišárek, and composer Ondřej Soukup. Svěrák's most notable perennial collaborator is, of course, his father Zdeněk, the author or co-author of the screenplays for seven of his son's nine films, in which he also appeared several times as an actor. Svěrák Jnr. is well aware that his dad, a key figure of the Jára Cimrman Theatre, is a national treasure and is loved for his inventive way with language, his witty quips and scintillating dialogues, his skill in providing unexpected punchlines to given situations, and his highly specific humour, a blend of deliberate naivety and sense of subtle absurdity. The director fully appreciates these assets, since he's on the same wavelength, moreover, they both have a preference for unheroic heroes – unremarkable individuals experiencing small grievances and lack of understanding, diffident perhaps, a little lonely, people who sometimes make mistakes. Yet these characters are also genuine and good-natured, offering their heart and a generous helping hand…
Svěrák's artless child protagonists are fine examples of this (Elementary School, Kolya, Barefoot), as is Tkaloun, a pensioner and former teacher (Empties), the unwanted teddy bear (Kooky), and even the Czech RAF pilots (Dark Blue World), whom destiny deprives of the joy of love and victory. All of them, however, confront their obstacles and injustices with determination, they never stop believing in a favourable outcome, and still resolutely look upon the world around them with fascination. The films have an episodic structure, thus the characters are given the opportunity to reveal their positive frame of mind in numerous different situations, to which the director imparts a special quality by elegantly melding them with his poetic vision. Thus from familiar, unexceptional surroundings come stories with fairy-tale aspects, in which good quietly prevails; and who wouldn't regard this as encouraging news? There are very few films that continue to bring such enjoyment to audiences as those crafted in the workshop of Svěrák & Son.
Zdena Škapová
The Ride Jízda / Jízda

Directed by:

Jan Svěrák

Czech Republic, 1994, 88 min

Two friends in an improvised convertible, a young female hitchhiker, a stunning summer landscape, and songs from the Czech band Buty – these are the ingredients of the road movie that became a cult statement for the nineties generation. The young appeared to have it all – freedom of spirit, exhilaration and sheer joy of life, and it seemed that, in order to achieve this, they didn't need "one arm longer than the other", as the film's lead song would have it.