Lithuania
2008, 84 min

Section: East of the West - Competition
Year: 2008
The psychological story of a young physician who loses the ability to feel emotion after undergoing a traumatic experience. It is only thanks to video recordings of herself in extreme situations that she regains the capacity to feel suppressed sensations. And so she decides to try an experiment – one that cannot  yield positive results alone.
Synopsis
Following a traumatic experience, Gaile, a children's speech therapist, is incapable of feeling any emotion. In the course of preparing a video presentation for a scientific conference, however, she sees herself in film shots and is surprised to find suppressed sensations returning to her, primarily feelings of aggression. Gaile decides to try an experiment. With the help of a man with a video camera, she causes a stir and provokes consternation in those who are a party to her excesses. At the same time, it is as if she is unable to perceive the value of normal emotion or even the possibility of someone having feelings for her… Domestic film critics labelled debuting director Kristina Buožyte as the Lithuanian Liliana Cavani. In this, her first fiction film, she ponders the roles of the audiovisual recordings that have become such a common part of our lives.
About the director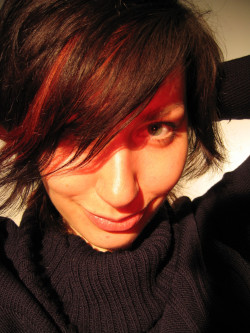 Kristina Buožyte (b. 1982, Klaipéda, Lithuania) studied film and television direction at the Music and Theatre Academy (2001–2005), where she received her bachelor's degree. She has made short films and music videos and participated in various workshops and seminars (such as the Prague INYOP – summer courses in making interactive films, documentaries and plays for young professionals). She also studied abroad in Spain and Sweden. Buožyte began to make a name for herself with her short film Change the Record (Pakeisk plokstele, 2005), which was awarded at the international student film workshop "Summer Media Studio" held in Juodkranté, Lithuania. She has also collaborated on the screenplays of her colleagues (Ignas Miskinis, Inesa Kurklietytee, Knut Erik Jensen, and others). The Collectress is her graduation film for the completion of her master's degree in film direction.
About the film
Color, 35 mm
International premiere
| | |
| --- | --- |
| Section: | East of the West - Competition |
| | |
| Director: | Kristina Buožyte |
| Screenplay: | Kristina Buožyte, Bruno Samper, Darius Gylys |
| Dir. of Photography: | Feliksas Abrukauskas |
| Music: | Titas Petrikis |
| Editor: | Eimantas Belickas, Paulis Zavadskis |
| Producer: | Ieva Norviliene, Aidas Avižinis |
| Production: | Tremora |
| Cast: | Gabija Ryškuviene, Marius Jampolskis |
| Contact: | Tremora |
| | |
| www: | www.collectress.lt |
Guests
Aidas Avižinis
Producer
Kristina Buožyte
Film Director
Ieva Norviliene
Producer
Gabija Ryskuviene
Actress, Actress
Marius Jampolskis
Actor